Philip Fagan
Ft. Worth's Enigmatic Golden Boy Racer
By Bev Bowen
In the mid-1950s Ft. Worth had its own version of "Rocker" type British Bike racers, made famous by the Ace Café legions back in Merrye Olde England. Instead of a café hangout, the hub for gathering in Ft. Worth was mainly Dalio's Triumph Shop, but others might have preferred George Fasig's Indian dealership (which later became Carlton Williamson's shop). Of course, there were other dealers, but Dalio's was the first name on the list for at least a couple reasons, one being that Triumphs were probably the marque with broadest appeal (and overall most successful in racing) and the other being that Jack Wilson was the main wrench there for the longest time, and his personality and results were a magnet to any serious gearhead in those times.
Philip Fagan on Carlton Williamson's Black Shadow
The Iron Horse Motorcycle Club was not the only motorcycle organization in/around Ft. Worth back then, but it was maybe the liveliest, considering the noise made by its riders and their bikes! These guys were SERIOUS about going fast on motorbikes, and they frequented both official and non-official speed gatherings. Perhaps no other motorcycling organization in Texas has maintained such a bond among its members - and they still have an annual reunion.
All this to preface the subject luminary Philip Norman Fagan, and to highlight his achievement on the salt in 1956 on the saddle of George Fasig's Norton Dominator 88. As you can see from the signs in the photos, Philip rode that machine to a record, but it was then quickly broken shortly thereafter by Jesse Thomas aboard a Triumph. Philip was definitely one of the colorful stars of the Ft. Worth racing crowd.
Philip Fagan
Philip was a small man- so, his size was perfect as a "jockey" for the racers of the day. And, Dalio, Fasig, Williamson and others hired Philip to race their machines. Apparently, he had the riding skills to deliver big results. He was no stranger to Vincent and you can see him in one of the photos astride Carlton's Black Shadow dragster.
He was a favorite among the Iron Horse Club and at dealerships - folks still talk about his presence at races and around bench racing sessions and social meets.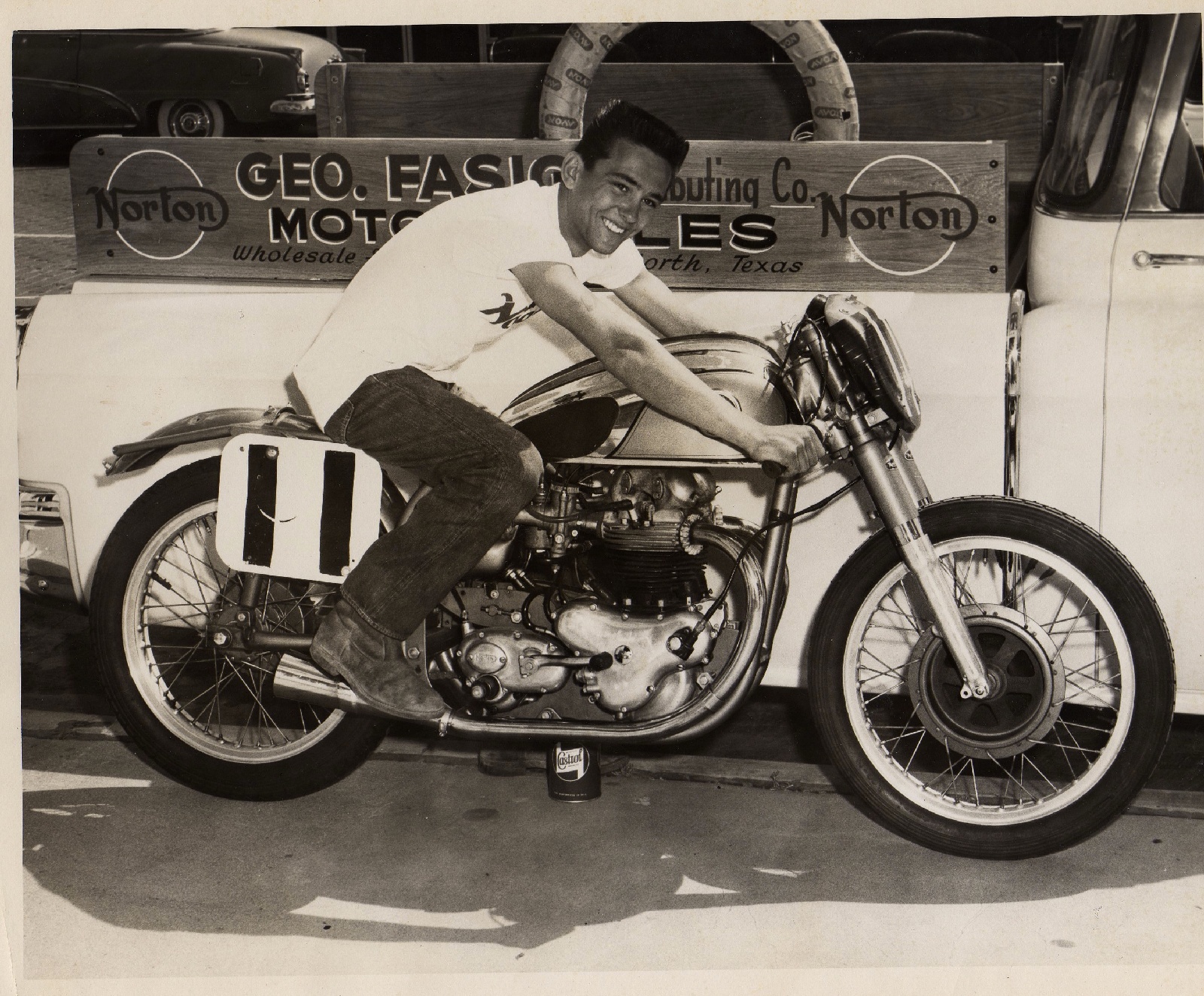 Philip Fagan - another pose
There was a lot more to Philip than motorcycling, though, as sometime shortly after those photos were taken, he drifted off to diverse interests and activities, some seemingly far away from derring-do on a bike at speed.
For example, he took ballet and went seriously into drama, studying under those on the cutting edge of the arts. Somehow, he became an intimate associate of Andy Warhol in New York. If that wasn't far enough adventure from Ft. Worth, he then went to Southeast Asia and studied Eastern Religion and culture.
Unfortunately, Philip Fagan is no longer with us, so we can't interview him about his interesting life. However, his namesake nephew, Philip Fagan, is working on a documentary that will likely provide more clarity to this interesting man's contributions and desires and may even reveal collateral information about those times of the crazy 1960s and possibly never before revealed information about not only the motorcycling activities of those days but also about other people - even Andy Warhol, perhaps.
Here is an interesting look into his nephew's documentary project - click on Current Projects.
L-R: Norton rep, Philip Fagan, Marvin Bell
Anyone interested may also check with any of the Iron Horse Club members, some associated either as members or as friends to the North Texas Norton Owners Association (NTNOA) and/or Lone Star Section, Vincent Owners Club (VOC). They may be able to add to this story, and if anyone has any information they feel might be helpful to Philip Fagan's documentary effort, use the link provided to make your contact - I'm sure Philip will appreciate it.
So, part of British bike scene (to include Vincent) back in the 1950s involved Philip Norman Fagan. He was special.