Counting Chinese Red
By Bev Bowen
My first Vincent was a barn find - a 1950 Chinese Red Touring Rapide. As has proven to be the case with many of us, that Vincent acquisition proved to be a life changing milepost and I have since lovingly restored, ridden and maintained that machine. And, naturally, I have taken special interest in its color and the history of the Chinese Red offerings by The Works.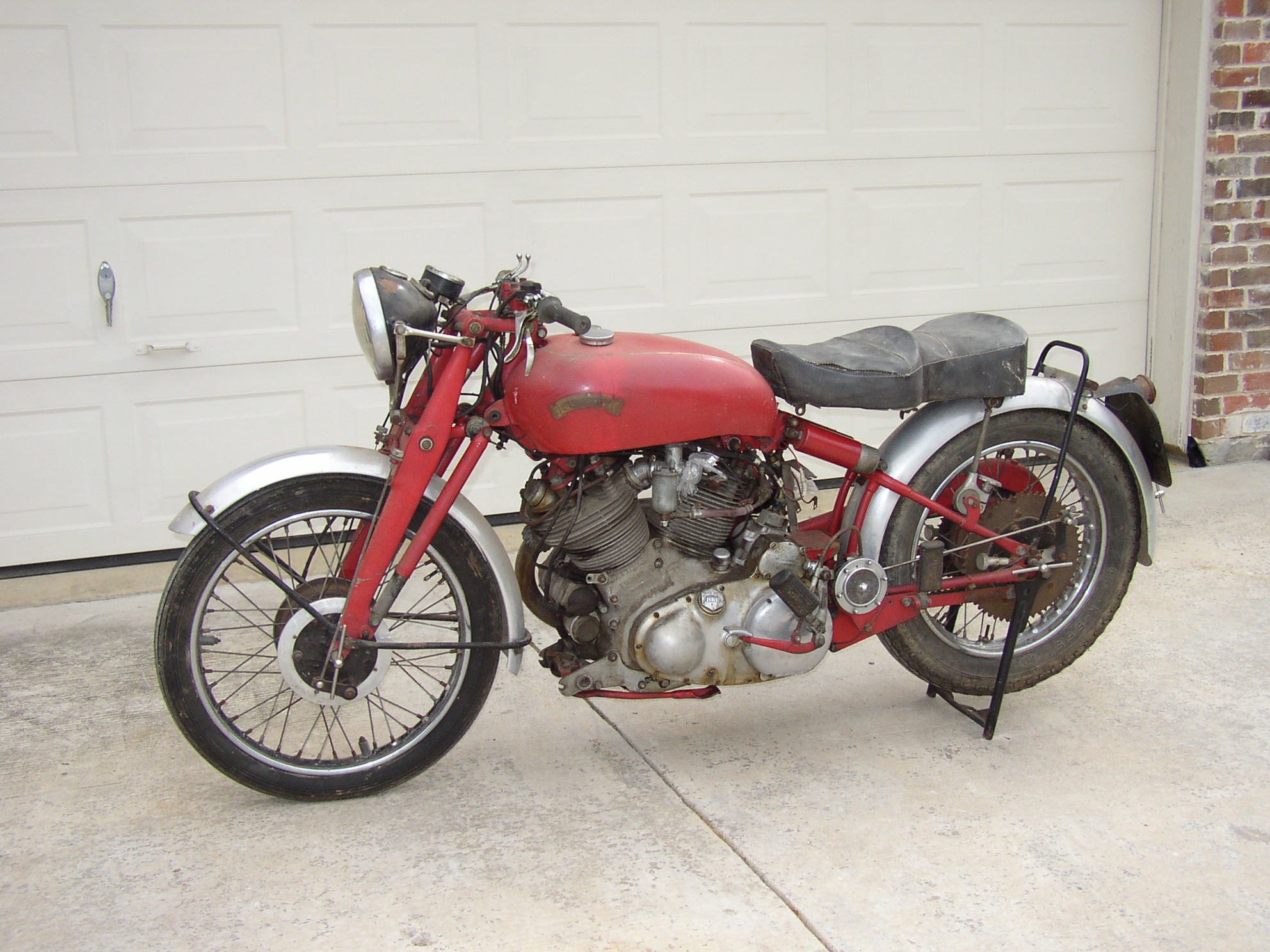 Bev's 1950 Chinese Red Rapide, original paint
Bev's Rapide with period modifications to "sport trim."
Much has been written about these red bikes and some of it is true! Three of the main assertions we hear are "they were done in batches" and "they were for the North American market," and that "they were all in touring configuration." None of those statements is totally true, although they lean toward accuracy.
It makes sense that the bike parts were PAINTED in batches. After all, there were more than a few made and individually doing these paint jobs would have been a nightmare. We don't really know for sure, but we can assume this was so. What we do know is that there were no real serial "batches" of Chinese Red Vincents. There were some sent in sequential numbers, sure, but there were more than a few that were preceded and followed by "Black Beasts" in number sequence.
Maybe every VOC Member knows that our Club maintains records on what left the factory. While the records are not complete, especially beginning about 1953, they provide much information and reduce the guesswork.
Here are the latest figures, courtesy of Gordon Powell, our Honorable Machine Registrar:
125 Red Vincents show on the Works Records held by the Club (disclaimer being, as mentioned, the records are incomplete). Of these:
17 went to Canada as 6 Rapides, 1 White Shadow and 10 Comets. Five of the Twins including the Shadow were in touring trim.
100 went to The USA as 97 Rapides and 3 Comets, and of these 32 were Red/Black combos all in touring trim and 39 of the other Twins were in touring trim. Yes, doing the math that means some machines were in "sport" trim (not touring trim).
One (1) stayed in the UK - it was a Rapide. Aha! So, not all went to NA!
Sixty (60) left the factory in 1950
Twenty-five (25) in 1951
Forty (40) in 1952
None in 1953, but the records started to run out there.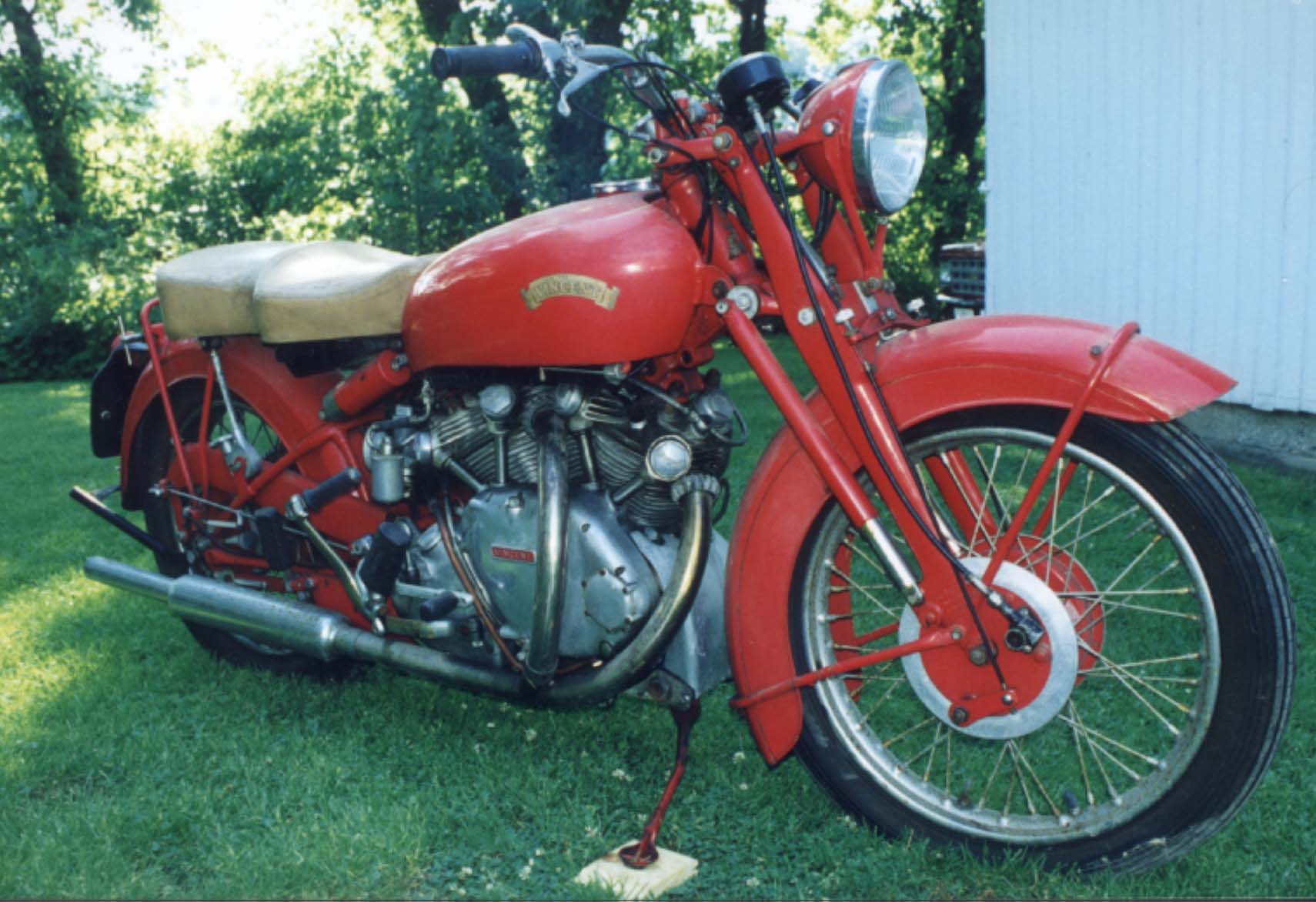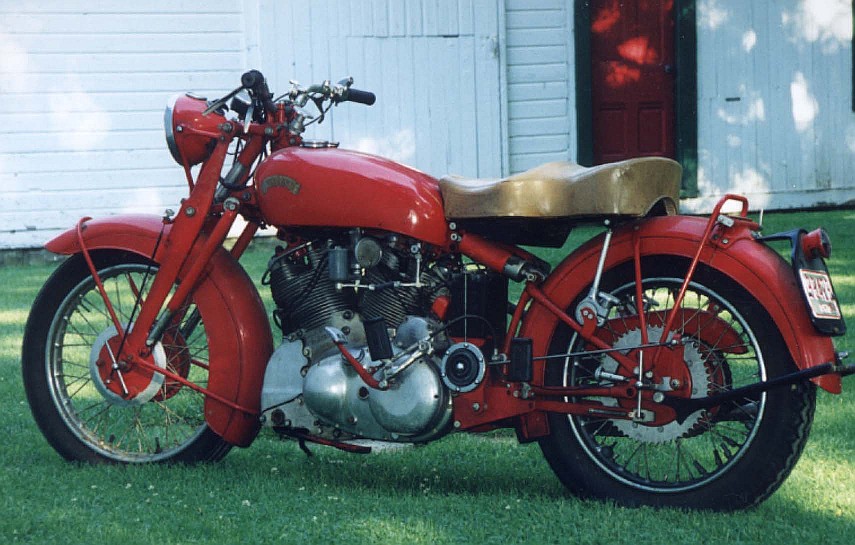 1950 Touring Rapide, original paint
These are the latest stats from our Club. While someone might find lost Works Records under a couch one day, and that such might reveal additional production, it appears The Chinese Red offerings from The Works were pretty limited in number. We all knew that, but this article is meant to update and maybe it's useful to some.
Thanks to Gordon Powell and others in our Club for their sharing of Works production data. If any of us stumbles upon a barn find or otherwise surfaces a "hidden" Vincent or Works Record of such, we can rely on the Club to check things out in our support, and they likewise will appreciate our reporting of the engine, frame and case mating numbers to their department. And, if it's RED you can feel extra special!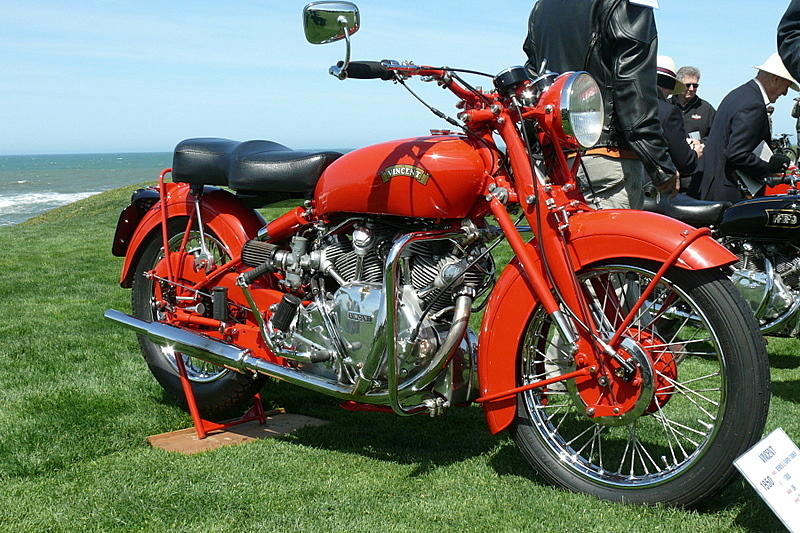 Restored Touring Rapide at Carmel, California