"Have Vincent - Will Travel"
Marty Dickerson's Wild Texas Rides
By Bev Bowen
Lovers of TV Westerns will recall the series "Have Gun - Will Travel" in which Paladin, played by Richard Boone, was a San Francisco gentleman/champion for hire. Many westerns of the day featured "hired guns."
It's not such a stretch to see a somewhat related theme in that Texas was stage for a young man from Southern California hired to feature the mighty Vincent motorcycle in showdowns of speed, all to spread the proof that the new 998cc Vincent Twin from England was indeed the bike to beat; and with the visible vanquishing of all competitors on other makes, drive some sales.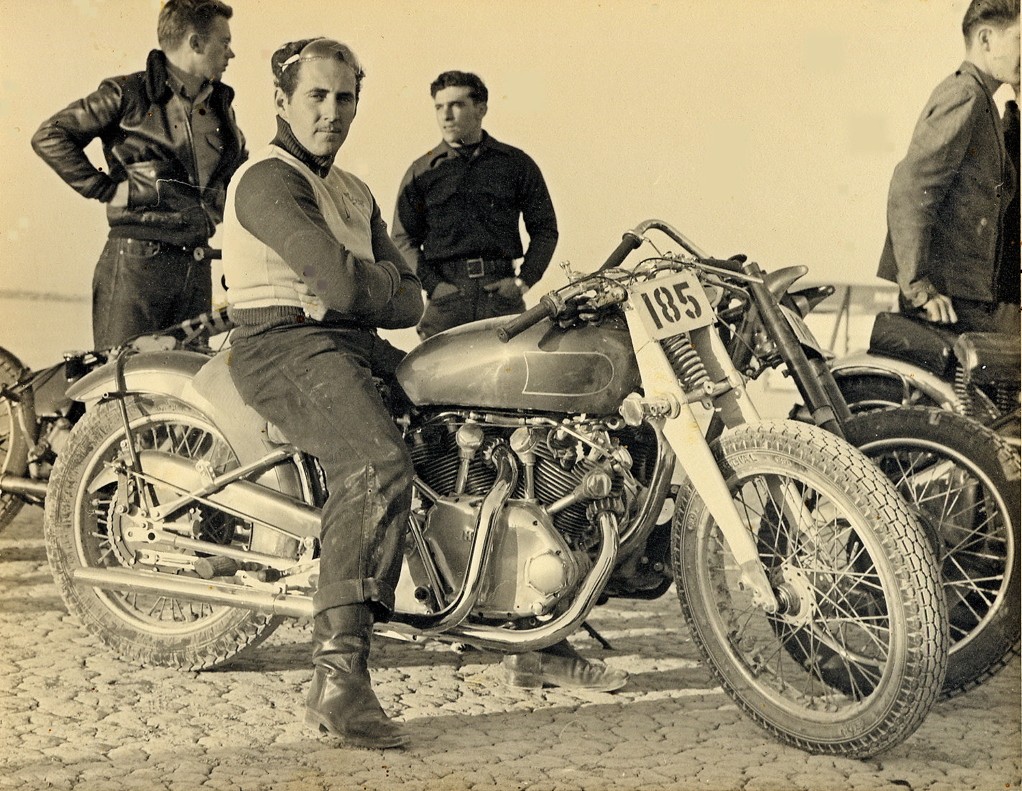 Marty Dickerson, 1949
The young man was Marty Dickerson and the year was 1949. The tale has been told many times, among Vincent Men, and a really nice article by Herb Harris appears in Flat Out! The Rollie Free Story, by Jerry Hatfield, on pp. 134-135. Anyway, I can't get enough of a good story, so I got my own account from Marty at a recent Vincent event in Kanab, Utah, September 2010.
Marty rode his Rapide from his home into West Texas, along the way enjoying the wide-open spaces and lots of speed, no doubt. He told me one of his best memories was pulling off the road as dusk set upon The Painted Desert area, where he lit his pipe and gazed at the stars until he climbed into his bed roll for a great night's sleep.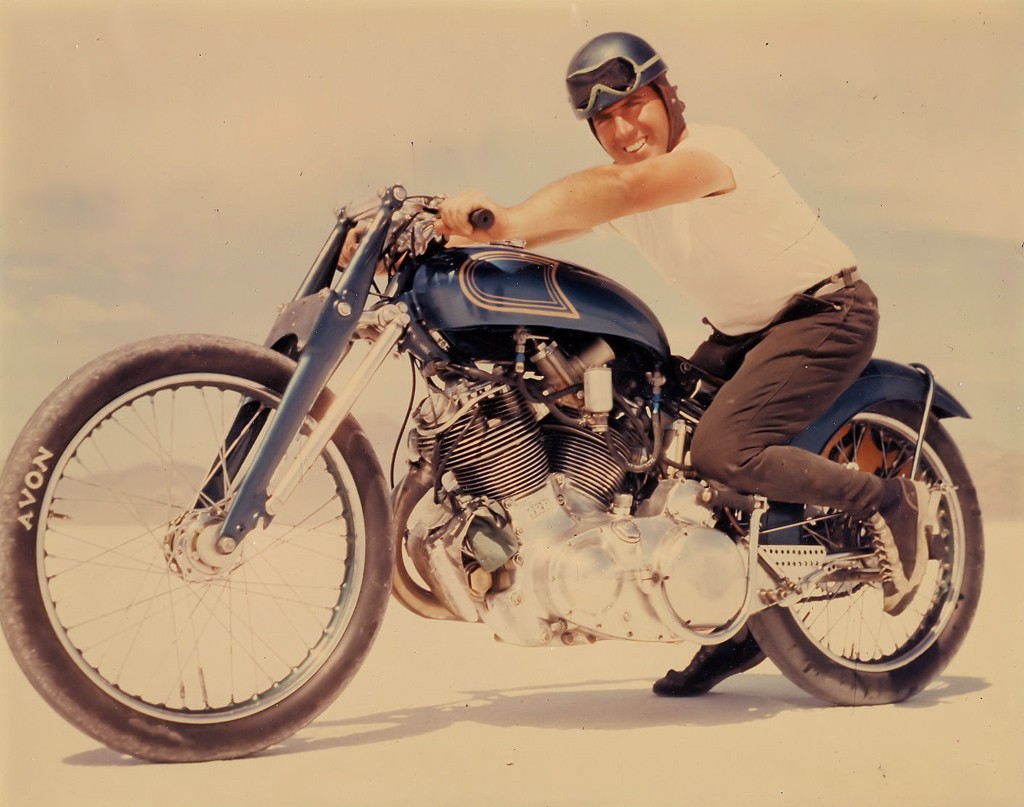 Bonneville, 1953 - Record Raised to 147.85 MPH
He was resourceful, finding rooms for rent, camping and maybe staying as a guest here and there. Apparently, he was a magnet for competitive drag racers, because he saw plenty of action on his tour, especially in Texas. Maybe his favorite race was in Arlington, between Ft. Worth and Dallas. An ex-Triumph dealer-turned Harley hop-up artist had sold numerous tuned Harleys to go-fast locals, and at least one of those bikes was a stroked and bored local screamer. Well, Marty whipped 5 of 'em in one day, the defeated riders being off-duty policemen. He figured there would have been 5 Vincents sold that day, had not there been a contract with HD by the local police department!
Marty at Bonneville, 1975
As Vincent people know, Marty Dickerson went on to significant racing victories and championships and records, at various venues, most famously at the Bonneville Salt Flats. He has made a lifetime of this, and I use present perfect tense, because even in 2010 he was signed up to run at Bonneville, but the Vincent he was to ride was unable to make the start line. A bit of a disappointment, because he was aiming to beat his record set in 2007 at age 81, where he reached a top speed of 154.567 MPH!
I mentioned I visited with Marty in Utah. He shows up at many Vincent events and has maintained his association with The Vincent Owners' Club, in which he earned recognition as one of the elite "Honorary Members." At the North American Rally in Colorado in 2008, he was presented The Phil Vincent Award. Marty is one of those special people that sets a great example and is happy to share his knowledge and stories with others. He is a splendid raconteur and often takes the microphone at events.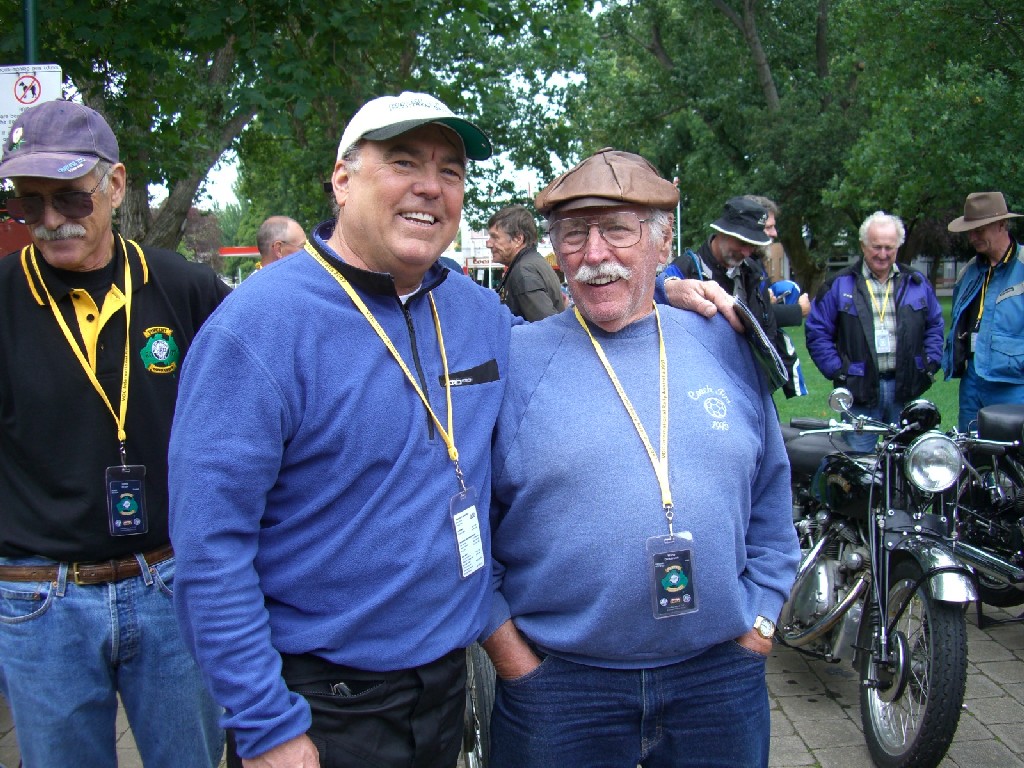 Bev & Marty at the VOC International in Cooma, NSW, Australia - March 2007
His propensity to share and to speak no doubt are a continuation of his other key experience in motorcycling: that of being a certified motorcycle technician instructor. The school system in Los Angeles was the vanguard in providing such a program to high school students, and Marty played a major role in coming up with the curriculum and study plan. In doing this, he helped many men on their way to careers in a blossoming motorcycle industry. He worked at this for many years, but at all times stayed involved with the Vincent world.
At some point a book needs to be written about Marty Dickerson. Those of us who know him know he is a real champion, as a racer and as a man. And, I'm glad some of his story happened in Texas, where he won every race! Like Paladin, he was a good hire.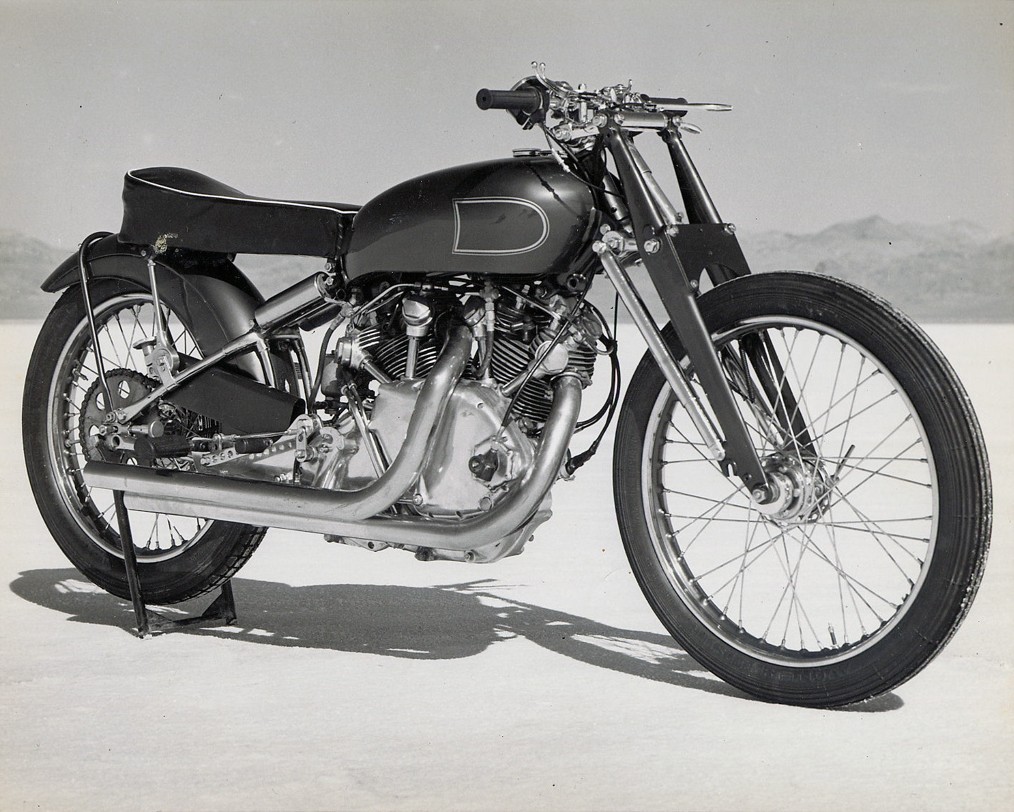 Marty's Blue Vincent at Bonneville, 1951