Corky Evans - Iron Horse Vincent Man
By Bev Bowen
Lawrence E. Evans, better known as Corky, grew up in Ft. Worth and graduated from Poly Technic High in the late '40s. At that time, motorcycle racing was becoming a very big deal in that area of Texas, with Pete Dalio's Triumph and Marvin Bell's BSA Shops among the vanguard as club gathering spots, sales and service of fast machines and birthplace of racing legend. The Iron Horse Motorcycle Club took in a good number of the most serious British Bike enthusiasts and racers, and Corky is one of them - yes, the club still has a presence and Corky, at age 83, still attends the annual Dalio/Wilson Reunion, which began as a call for all present and former club members to gather, of course remembering Pete Dalio and Jack Wilson (Triumph tuning/racing legend) and other members who have since "ridden off into the sunset).
Corky began his 5-year Vincent experience back when the Vincent factory was still in operation and working its USA business in association with the USA-based Indian manufacturer. In 1952, the Ft. Worth Indian/Vincent dealer was George Fasig. Corky traded in a BSA for a new Red Touring Rapide; engine F10AB/1/7063, shipped to Springfield from Stevenage in June 1951. So, Corky's '51 machine was titled as a '52, having been purchased that summer.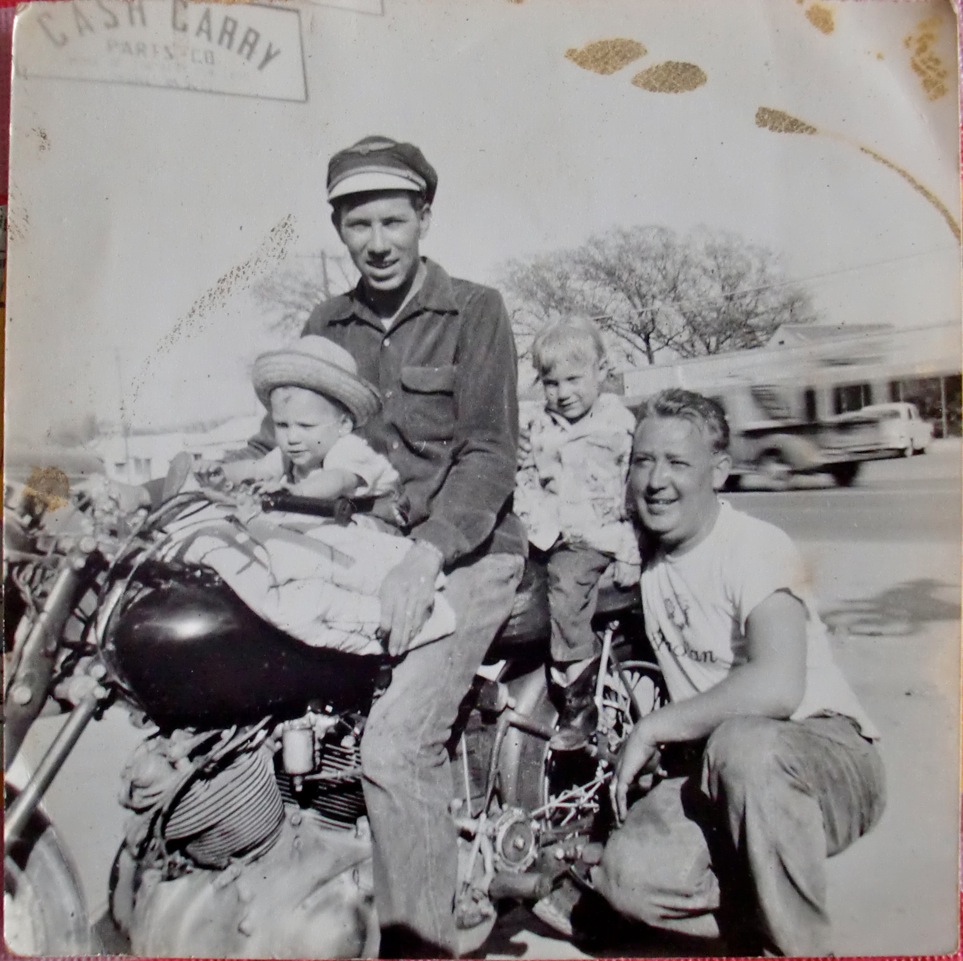 Corky Evans on Red Rapide with son Larry (front) and daughter Lawrie and George Fasig
Immediately, Corky put miles on the bike to break it in, removed the front fender and went racing! As was the drill in those days, he rode the bike to whatever venue and like most of the other guys, any type of racing was cool: street racing, top speed "road racing" (as it was called then), hill climbs, scrambles, even dirt track!
In the late '40s, it had become popular to use abandoned WW2 military airfields for drag strips, and one of the best was near Caddo Mills, a wee burg east of Dallas. The Sunday runs there became a real draw and the North Texas Timing Association was organized. In 1954, the NHRA made this strip only the 2nd sanctioned drag race venue outside the state of California. For an historical account, see: http://texastiming.com/about.htm Now, drag racers had opportunity to race legally and take in trophies.
Corky won a lot of them! With the passing of decades, Corky has lost/misplaced records and memorabilia, but he reckons he still has maybe at least 20 trophies lying around, from Caddo and other racing events. So, unless some records surface, we don't know what his timing slips showed, but by all accounts of legend, he was fast and he was there!
Corky's Vincent Title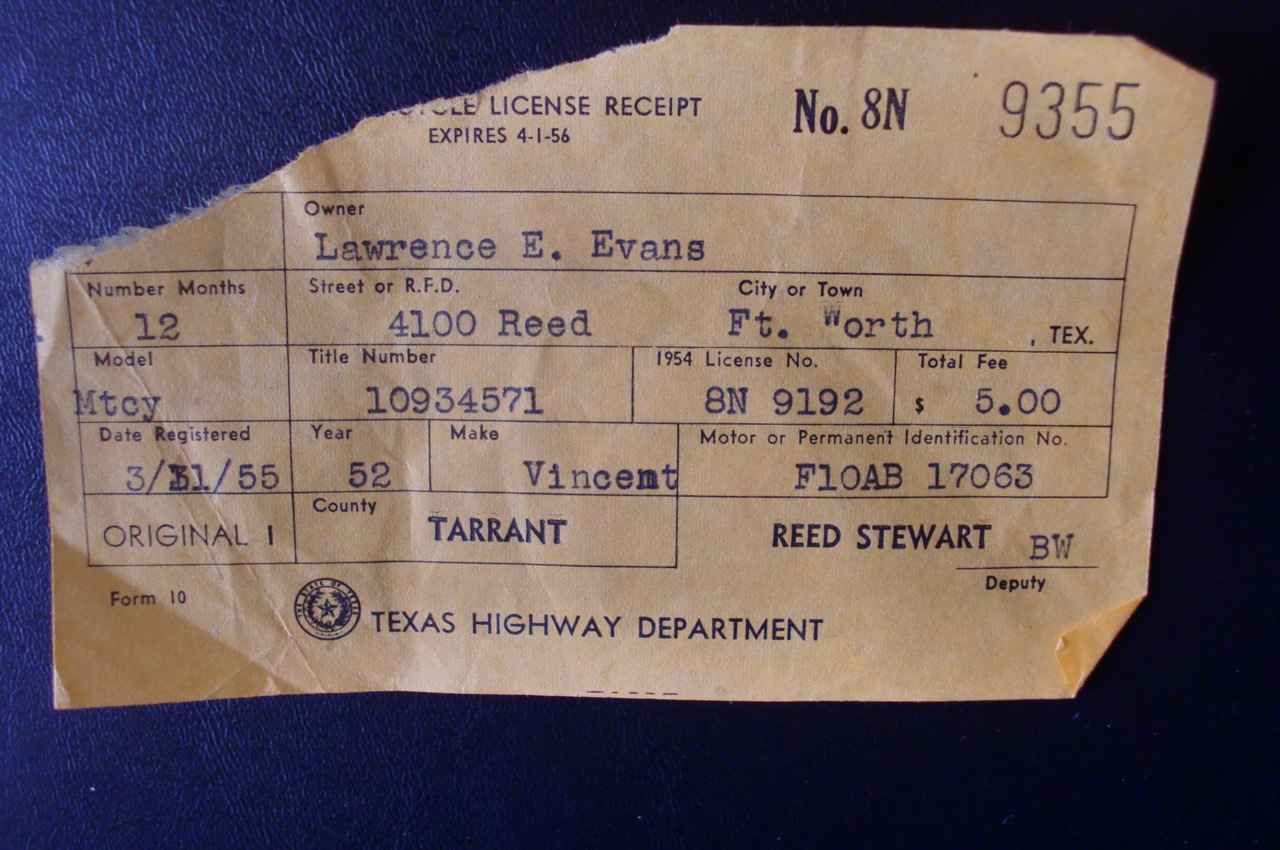 '55 License Renewal receipt
Corky had his machine overhauled after many thousands of miles of riding and hard racing. The work was done by Carlton Williamson, who had by then bought out Fasig's Indian/Vincent shop. Along with this refurbishment, Corky had Carlton upgrade the Rapide to Shadow specification, at least in terms of compression and carburetors. The bike continued to serve him well, until one day he took on a challenge from two of Dalio's tuned Triumphs. He beat them handily, but as he crossed the finish, the bike seized. He considered another rebuild, but his family was growing and he was getting older so it seemed a good time to move on, whereupon he traded yet again, this time for a trade for a Gold Star with Marvin Bell's Shop.
Corky relocated sometime after this to California and during his time there he continued riding (no longer racing competitively) and even had some colorful days riding with Sonny Barger and The Hell's Angels - he never became a member but had their respect and was allowed to ride with them.
Corky is back in the Ft. Worth vicinity, having retired in the late '80s. In the period photo Corky is on his Vincent and the two kids are his older son, Larry and his daughter, Lawrie. Yes, he was taking them for a ride and took each of his children on a spin at the young age of 2 weeks old, so they could get started early! The man alongside the bike is George Fasig, the proprietor, and the then-dealer for post war Vincents in Ft. Worth.
Corky made for some Vincent history in his 5 years of Vincenteering, and added to the colorful and storied Brit Bike legend that is the Iron Horse M/C Club of Ft. Worth, Texas.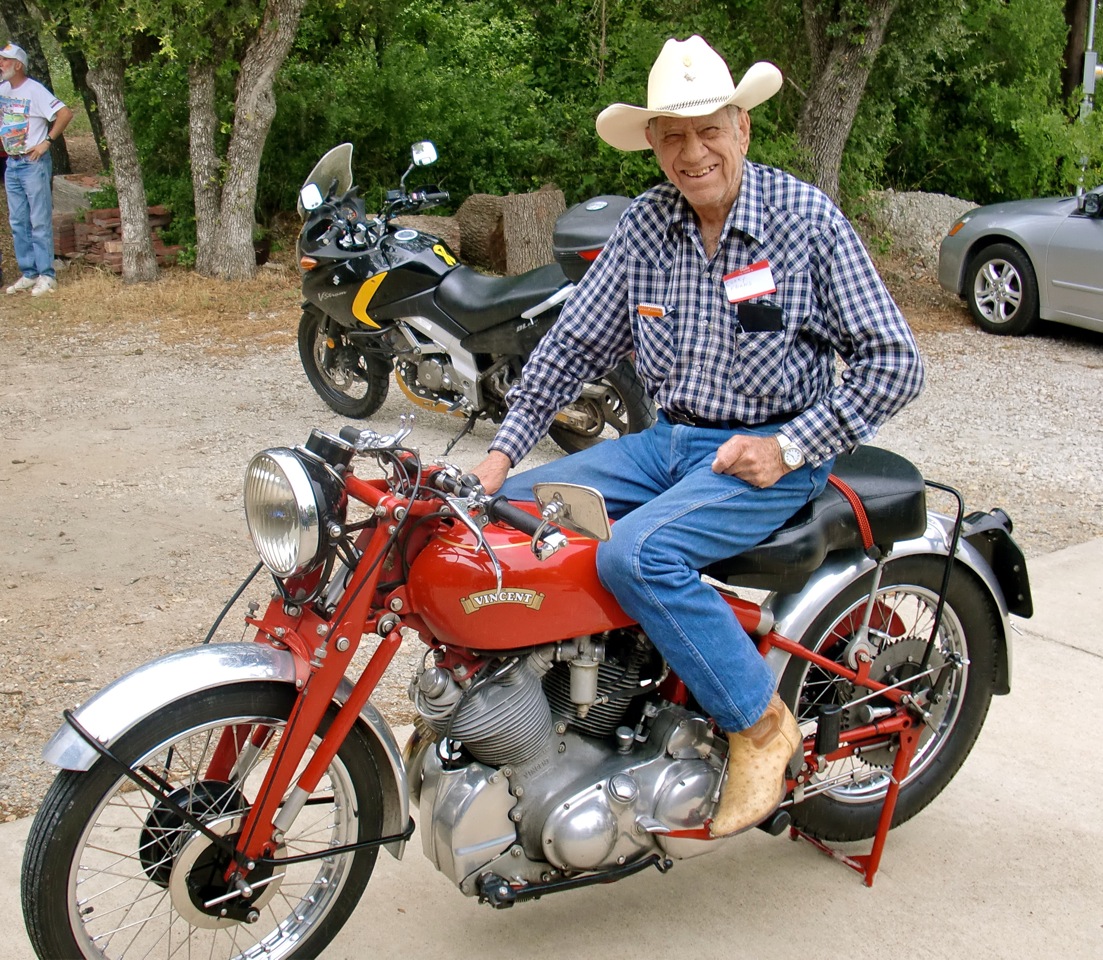 Corky Evans on Bev Bowen's Red Rapide