Jack Wilson's Vincent Racer
By Bev Bowen
Part 1: The Build
For Triumph Motorcycle racing history buffs, and especially Texas-based British vintage bike enthusiasts, the late Jack Wilson requires no introduction. No doubt, he tuned more Triumph race winners back in the '50s and '60s than anybody else, world-wide, working at motorcycle shops in the Dallas-Ft. Worth area, mainly Dalio's Triumph in Ft. Worth, and then his own shop, Big D Cycle of Dallas. His efforts resulted in records and championships, and he also had success as a racer, himself. Perhaps his high water mark was in 1956 when the Triumph streamliner he helped build and then tuned, known as "The Texas Cee-gar," exceeded 200 mph on the Bonneville Salt Flats. This feat was a mighty influence on Triumph naming their top of the line model "Bonneville" in 1959. Along with his many trophies and awards Jack was honored as an American Motorcyclist Association Hall of Fame Inductee.
His fans, friends, co-workers and competitors knew that he was not limited to Triumphs in his engine-building genius, and he was capable of really doing it all, to include design, machining, welding, painting, etc. With that in mind, a man with a 1950 Vincent Black Shadow commissioned Jack to modify his machine into a "Bonneville Racer." The man's name has been lost in time, but a few men who hung out at Dalio's in those years think his last name was "Jordan." He was described as a large man, in his mid-to-late 40s and perhaps because he always wore overalls they thought he was a West Texas cotton farmer.
Apparently, money was no problem for this man, and according to Tony Blackstock, several thousand dollars were handed over by "Jordan" for the modifications. Tony was a student at Texas Christian University in Ft. Worth in those years and spent plenty of time at Dalio's, and in the course of "hanging out" he was acquainted with this project. Tony was also familiar with Vincent, as at a very young age he had become the only Texan and one of only about 30 owners worldwide to take delivery of an original Vincent Black Lightning. Moreover, he actually raced his machine, with considerable success. With his Vincent racing experience, then, he was a consultant to both "Mr. Jordan" and Jack. And, Tony's good memory has helped with this story! For more about Tony and his Black Lightning experience, see Dodge City Showdown.
This build took place about 1960. Wilson was known as a fast wrench, and it did not take him long. One of the things recommended by Tony to the man was to go with 2 front heads, a la the later models of Lightnings. For this, the man went to Carlton Williamson's shop (a competitor of Dalio's) and negotiated for a front head from Carlton's stash, as Carlton himself had early on been a Vincent Man and racer and then a nominal dealer/service agent after Vincent had gone out of business. For more about Carlton, see Carlton Williamson: Audacity Personified!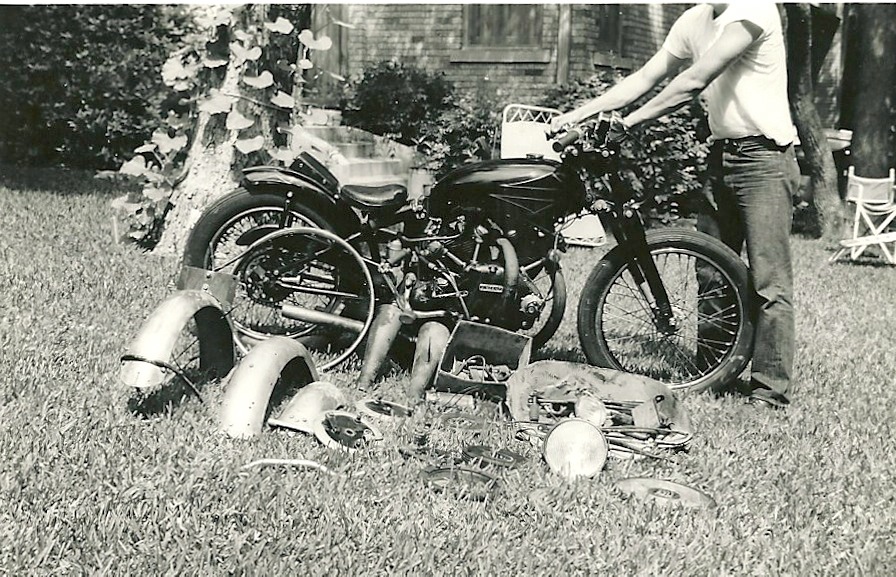 Bob Welborn with Wilson-built racer/removed bits
So, acquiring the head and other parts, Wilson made up this special Twin. He favored Dellorto SS1 carburetors in those years and that's what he installed. He welded a cutaway tank to accommodate the huge carb and float in the front and removed unnecessary parts. And, added others which might be useful on the salt course. The front rim was changed from 20" and looks to have been a 19". Front brake and mudguard were removed, along with the 5" speedometer, and a rev counter and mating Smith's gearbox drive were installed. Jack built modified pipes and arranged them on either side of the machine, hung very low. A racing seat and pad were made up to allow for "flat out" positioning. One rear brake was removed and photos show a different rear sprocket, so gearing was no doubt different from stock. Unfortunately, the exact carburetor chokes used and any internal modifications are not known, for sure. However, it is probably safe to assume that porting, compression, and cams were changed given the carb and exhaust setup. Jack Wilson was savvy regarding Bonneville and he knew of the Rollie Free Bathing Suit Bike record and other Vincent feats. With his name on the build, Jack would have wanted something respectable, and to him, winning was respectable.
Several members of the Ft. Worth-based "Iron Horse Motorcycle Club" (along with Tony) remember this Wilson/Vincent project. Ray O'Bannon, himself a motorcycle and car racer recalls that as a kid he watched Jack put this machine on Dalio's primitive dyno and then wager Marvin Bell (BSA shop owner) that the bike would whip Bell's best BSA racer in a drag race. Jack lost his bet, thanks to a missed shift, not being familiar with Vincent clutch technique! Charlie Campbell, one of the "jockey-sized" go-to racers back then, said he gave it a bit of throttle once and remarked that it was a mighty machine and looked like it "might bite you!" Blackstock rode the machine and said it was absolutely fast, at least on par with his Black Lightning, but perhaps "not as quick" (through the gears and in handling). The man that knew most about the bike's power is Bob Welborn, who bought the machine from Dalio. He was also a TCU student, a pal of Tony's and a certified speed freak. Tony and Bob report that Jack claimed this machine put out 79 rear wheel horsepower on the Dalio dyno. Yes, that's a lot of horsepower for a Vincent back then, remarkably more than that of a "stock" Black Lightning. Dalio had about the only dyno in existence in Texas back then and we have no way of knowing how accurate it might have been. What we do know, however, is that people did not doubt Wilson's ability to engineer horsepower.
The bike was completed but not delivered, as for some reason the "Mr. Jordan" backed away. Dalio then took possession of the machine and it sat, forlorn, in a shed out back of the shop. We can speculate why Dalio's shop did not put the racer to use in competition, but maybe the best assumption is that they set it aside, waiting for the right shopper, as they went about working their priority, which was Triumph, first and last.
One day, Bob walked into Dalio's for his "bike fix" and Dalio approached and put his arm around him and said "son, I have just the bike for you." Or, something like that! Anyway, a deal was struck and Bob Welborn, graduating senior at TCU, became owner of a very fast Vincent set up by the great Jack Wilson.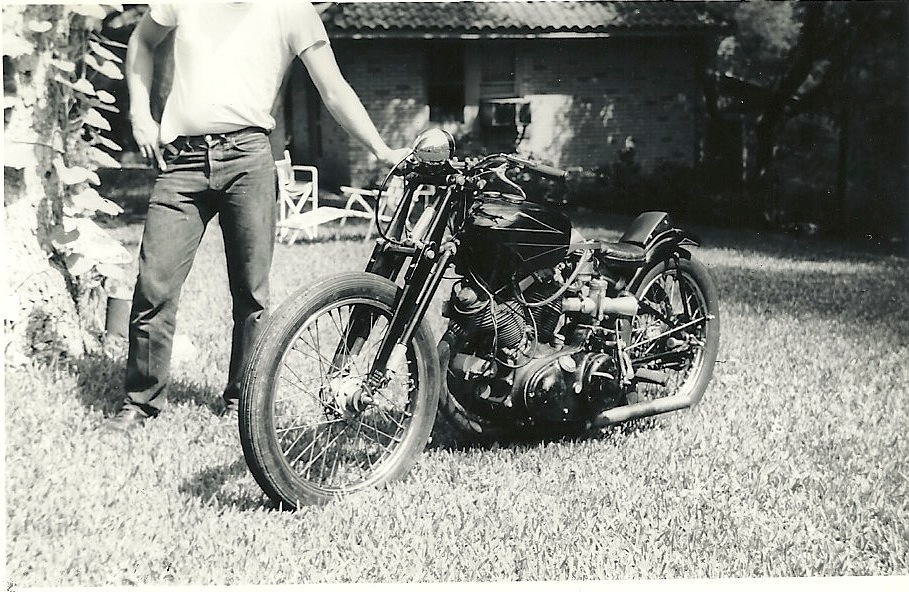 Wilson built racer
Part 2 - Wilson's Racer - Fast into "Suspended Animation"
According to The Works Records, this Black Shadow was shipped from the factory in Stevenage in 1950 to Indian Cycle Sales in New Orleans. When I acquired the machine in 2007 I immediately set to looking back for information, and while I have the large part "done," it's still a work in progress.
While I have some clues, whoever took delivery or what dealership was involved is not certain, as so often is the case with these old machines. We absolutely do not know anything of how or how much the bike was ridden in its first 10 years. The bike did show up at Dalio's with its then owner, the "Mr. Jordan," mentioned in Part 1 of this story. That was probably 1960, as recalled by several Iron Horse Motorcycle Club members who remember the bike. Then, when Jordan backed away, the bike sat for maybe 6 months in the back of Dalio's shop, at which time Bob Welborn became the owner.
Bob was in his senior year at TCU and had a real need for speed, which he got with this machine! He told me that when he got the machine to his house (this was about late 1960 or early 1961) he went for a startup. In the late evening Texas heat behind the home where he lived with his parents, he kicked and kicked until wringing wet with sweat and near exhaustion with no good results except exercise. That's when he discovered the 3rd petcock! Switched on, it fired right up. Bob said "I was transported to a new zone when I heard those open pipes and felt that power!" While he did some racing on other bikes, he did not do any formal speed runs with this Vincent. It only had one brake (on the rear hub) and he used the bike just for frequent speed "fixes" on the vacant yet almost completed expressways being built around Ft. Worth in those days. He would wait until the crews had gone home and then have a "raceway" all to himself.
Bob had many bikes before and after this Vincent, to include a kitted Harley, Kawasaki ZXs and a totally modified Yamaha V Max but says this Black Shadow was "right there" in terms of impressive speed, in comparison with any of them, although such modern bikes deliver more speed at greater ease. He later went on to club road racing out in California and had other speed adventures in other places with other bikes, so he knows performance.
Bob Welborn and the Jack Wilson-built racer circa 1961
Welborn graduated from TCU and went to U.S. Marine officer training and 8 years of active duty. While he was away, his mother sold his bike (probably in 1962) for $350.00. No, that amount is not a typo. He does not remember who the buyer was, but he does recall the man was from Dallas, and at some point there's a vague recollection that he heard later on that someone had "blown it up."
We still do not know for sure who that buyer was, or any others who might have owned the bike for the next several years, up until the late '60s. Nor do we know any specific/documented racing achievements, if any, by this bike. With Bob Welborn, though, and the good memories of Tony Blackstock and other members/friends of The Iron Horse Motorcycle Club of Ft. Worth, I gathered some good information about the bike along with the photos that Bob provided.
The machine eventually settled in at a service ("filling") station in North Dallas. That owner is pretty well known to many of us and he has owned numerous Vincents over the years. The "Wilson build" was in his stash at the shop, and by that time (1960s/early 1970s) several if not all of his Vincents were in basket shape condition, with parts all confused. I'll comment here that in those days there was not a Vincent Owners Club presence or membership to speak of, and since the production of this marque had been finished many years before, there was not a whole lot of interest in anything save "getting the old fast bikes running again." Matching numbers were of not much interest - if even a register on awareness. And, the enthusiasts such as this man acquired all the parts they could.
At some point the filling station owner sold the bike to two half-brothers, both of whom were keen to have a "performance project." One of them knew about the racing heritage of this bike, and provided the next round of useful information. Each of these half-brothers eventually had title and in between one of their sons owned it. I have had phone conversations over the years with each of these family members and have pieced together that their ownership began about 1972. As with the service station owner, it never became a runner, although there were great intentions. But, as with so many projects, it remained a no go.
The half brother and his son sold their interest in the bike to the remaining brother, and he then kept the bike for over 30 years, maybe 25 of those stored in a spare bedroom. This owner frequented many of the Brit bike shops and meets, looking for parts and help with his Vincent. One Girdraulic fork link he needed he acquired from the late, legendary Victor Toogood. I never met this owner but did speak with him by phone (as I did with his nephew and the half-brother) on numerous occasions. My contact with him began about 2002 at an auction. In looking at the sign-in, I saw his name and hometown and that he was interested in Vincents, so I Googled and made contact, offering that I had seen he was at the auction and that we shared similar marque interests (Vincent). He mentioned that he already owned a Vincent and that it was not running and that it was really more of a "Black Lightning." He was not interested in selling it. But, I called him maybe every 6 months, hoping he would either decide to sell or at least invite me to come by and have a look. He was open to the visit but said I would not be impressed given the state the bike was in, sitting in a garage, in pieces, thus only partially assembled.
Then, in early 2007 I called and spoke with his wife who sadly told me her husband had passed away. At some point the conversation lightened a bit and she mentioned her children had no interest in this bike and would entertain selling the Vincent, and that she had a price that her husband had set before he died. Not long after that I became the owner.
Thus, we know of at least 9 owners, names of 8 of them and a likely name for the 9th. Even without careful reading it is easy to spot a gap where the bike may have become confused with another, but we have compelling evidence that the bike in this project is the one Wilson set up for racing:
Bob Welborn has pictures of the bike he bought from Dalio, Wilson's employer.
Bob knew the machine was sold to a "Dallas Man"
The bike owned by the filling station man was recognized as the "Wilson racer" by the 2nd brother-in-law. He told friends and acquaintances about the history of the bike.
An established Brit bike dealer/restorer (Keith Martin, Big D Cycle) in Dallas told a fellow Club member and me in 2008 that he knew who owned the Wilson Vincent racer and that man was the man from whom I bought the bike.
Parts in the basket case and that I acquired later that had been scattered to other stashes match those in the pictures Welborn supplied.
A well-known moto painter in Dallas was a neighbor of the man I bought it from and recalled that the man spoke of this machine as the racer Vincent built by Wilson.
There are other bits of information that lend support. Many hours were spent on finding this information and getting in touch with the mentioned people, and I have not given up in learning more, if there's anything to be found. For now, we are fairly certain this machine sat as a basket case for about 42 years. Adding to that the 6 years in my shop, then, Wilson's racer sat for almost 50 years before it came out of suspended animation. With a GROWL!

Part 3: Felix - Another Life for the Wilson Vincent Racer

In conversations with the previous owner I had heard him refer to the bike as a "Lightning" but as many of us know, lots of people call their Vincents "Lightnings." However, I did not doubt he had acquired some racing parts. When I inspected the basket case, it consisted of a partially assembled engine, and then a real jumble of fasteners and bike parts all mixed in with other brands of motorcycle and car parts.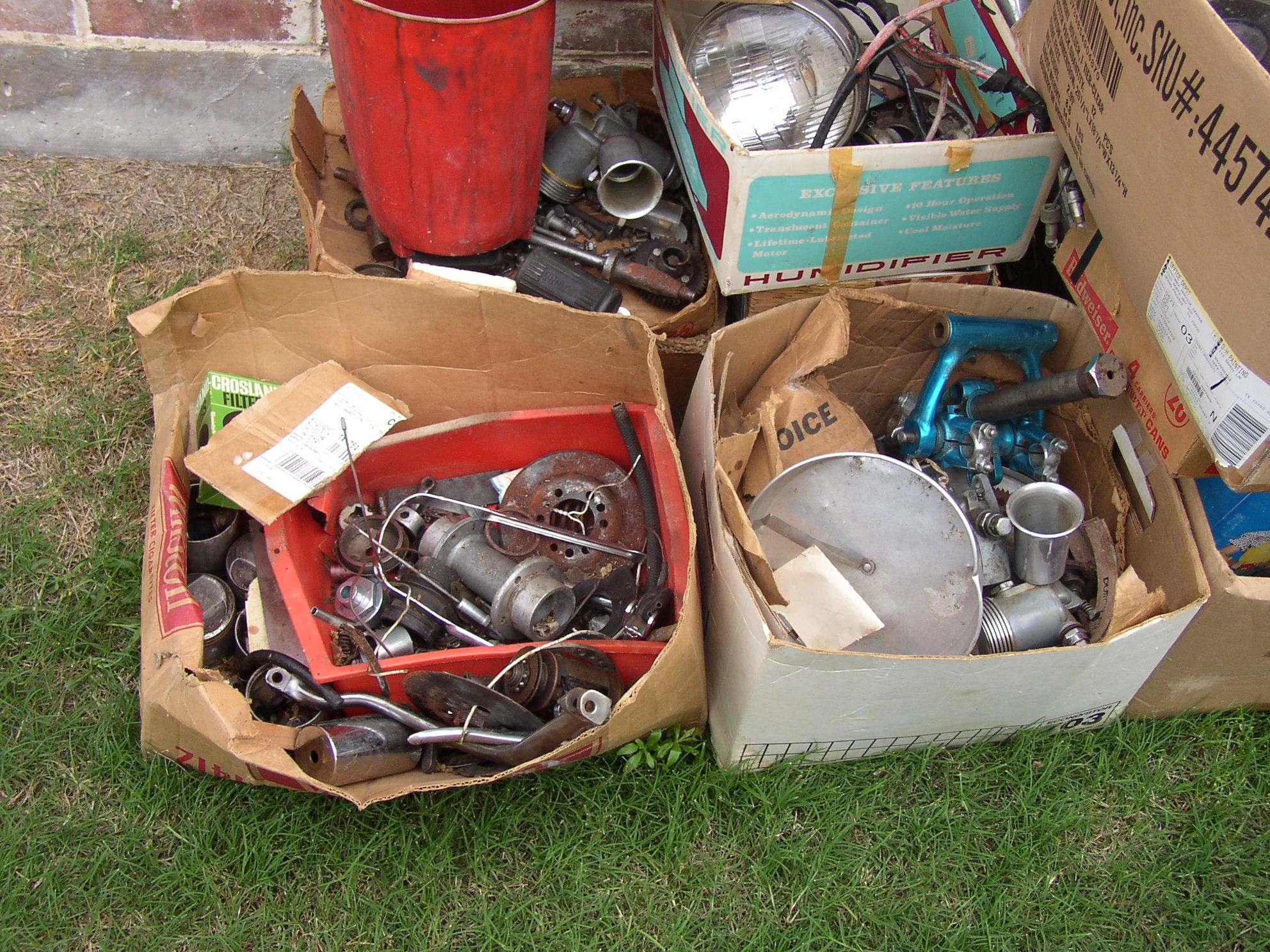 I recognized straightaway that the engine number and frame numbers were not a match and noted many parts were missing. Virtually all alloy parts had been anodized with a turquoise color and in a similar design all steel parts chromed! Ugh!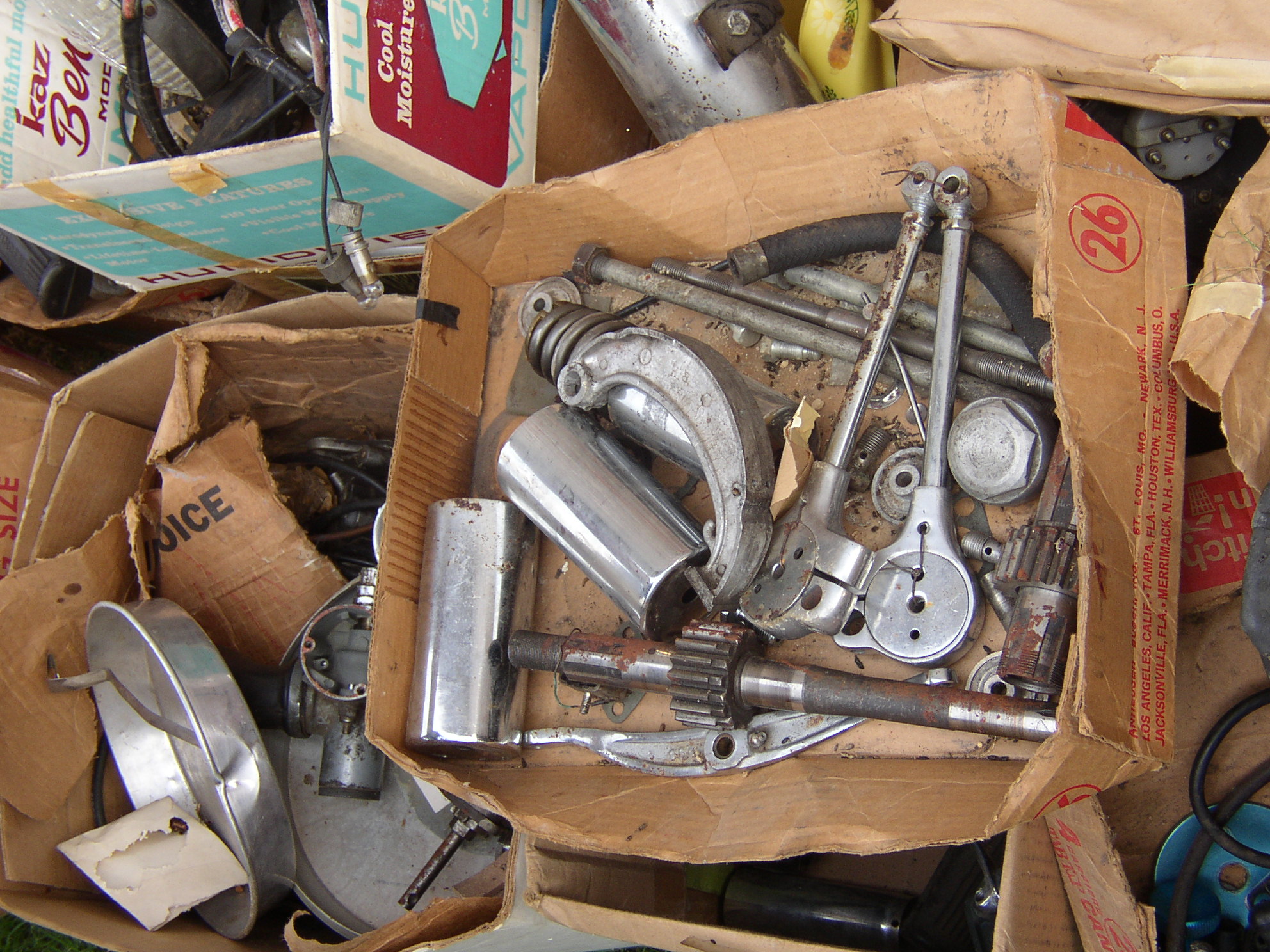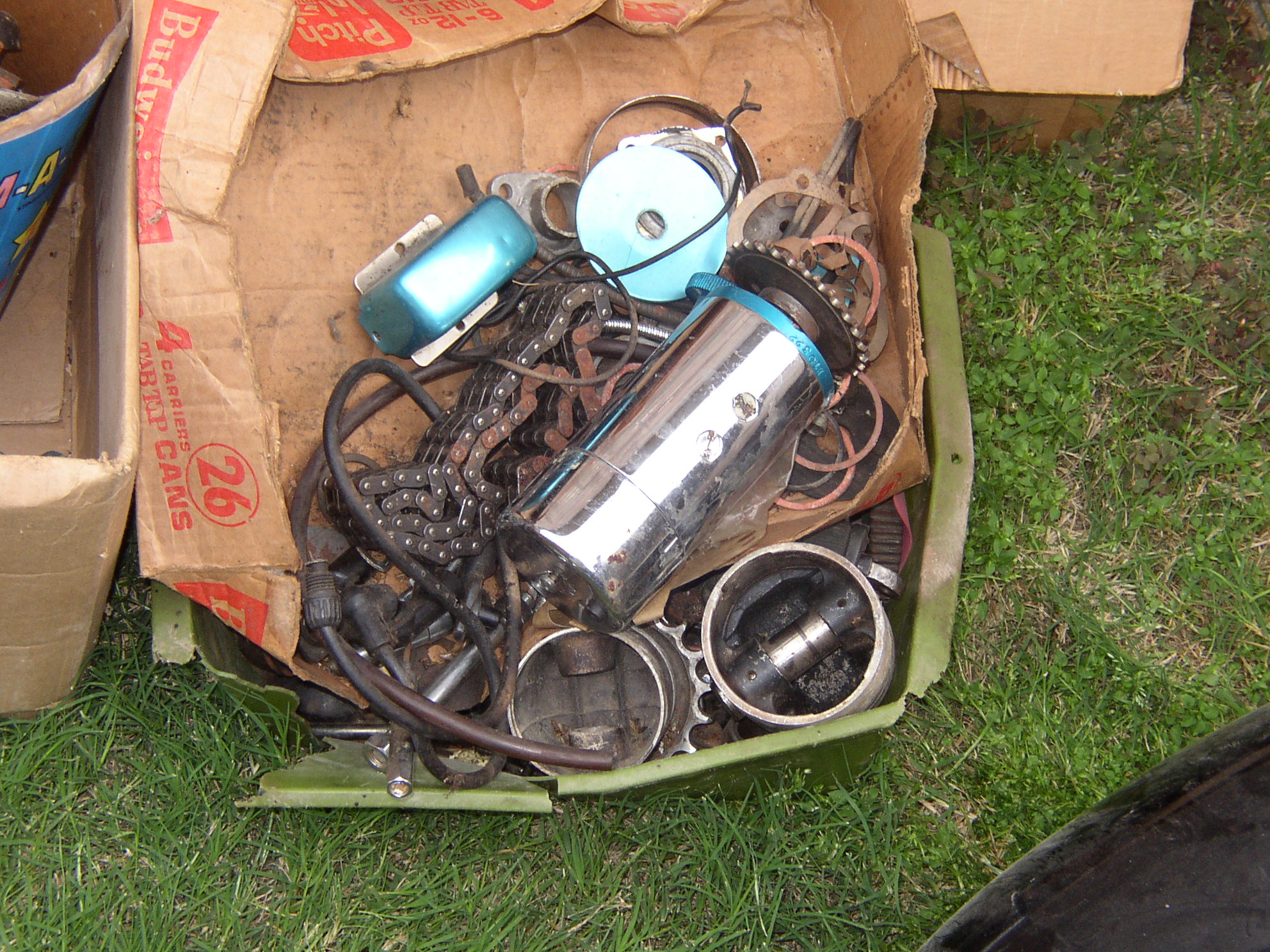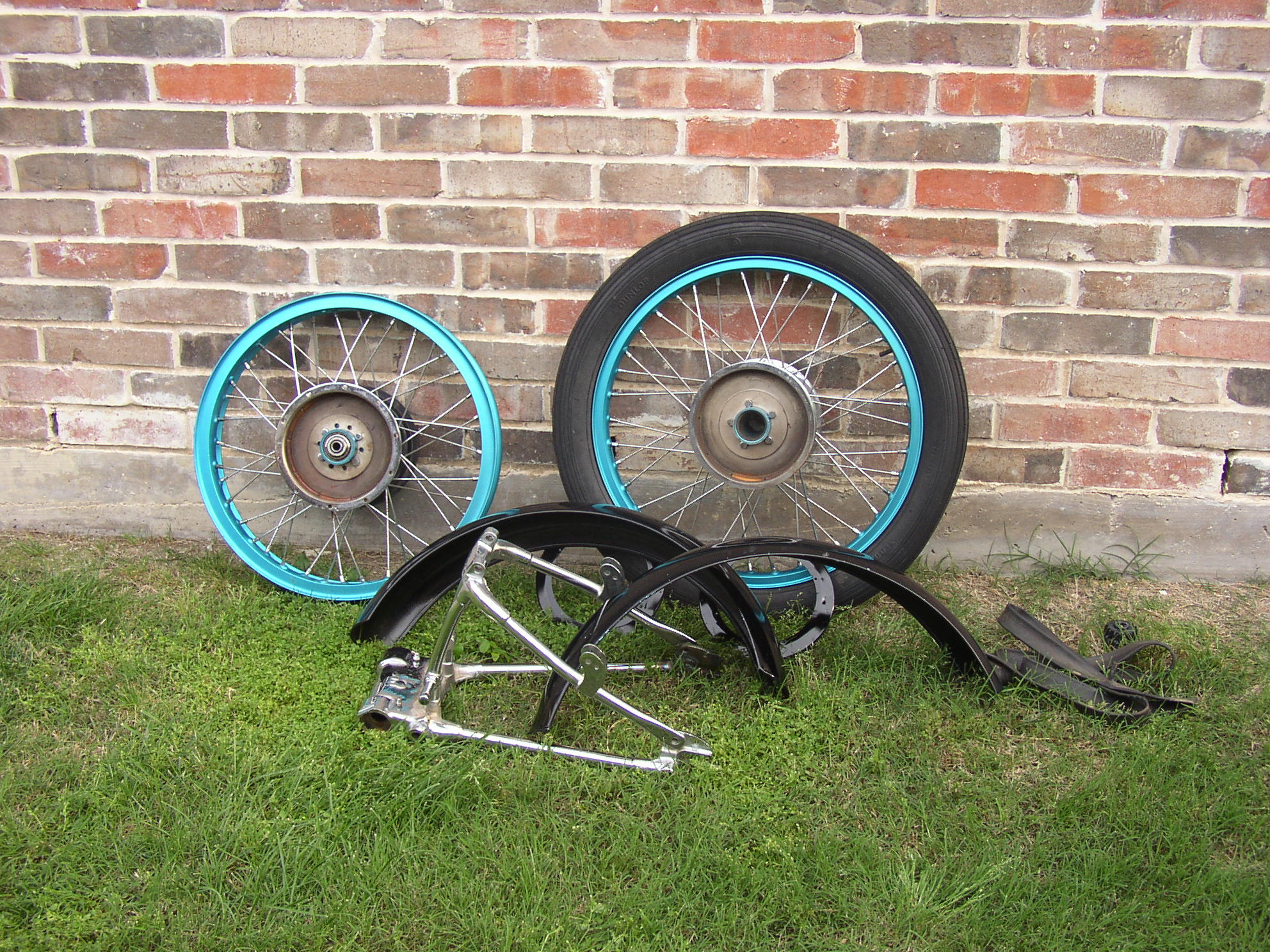 Turquoise & Chrome...
An immediately recognizable "feature" of this basket case was that it positively reeked with cat spray and other unmentionables, as its storage area had been in neglect and there had been apparent territorial conflicts amongst animals.
I rented a flatbed truck to haul the bike home, and cars followed at a distance for good reason: the "aroma" of my load would knock buzzards off a gut wagon! After I unloaded the parts, I hid them OUTSIDE my shop and behind a fence, and then I undressed and threw all clothing in the trash, to include my shoes. If trash burning had been legal I would have done that!
Maybe it was during the next 2 weeks of ridding the parts of their odor and grunge that I named my project "Felix." Humor is a good thing.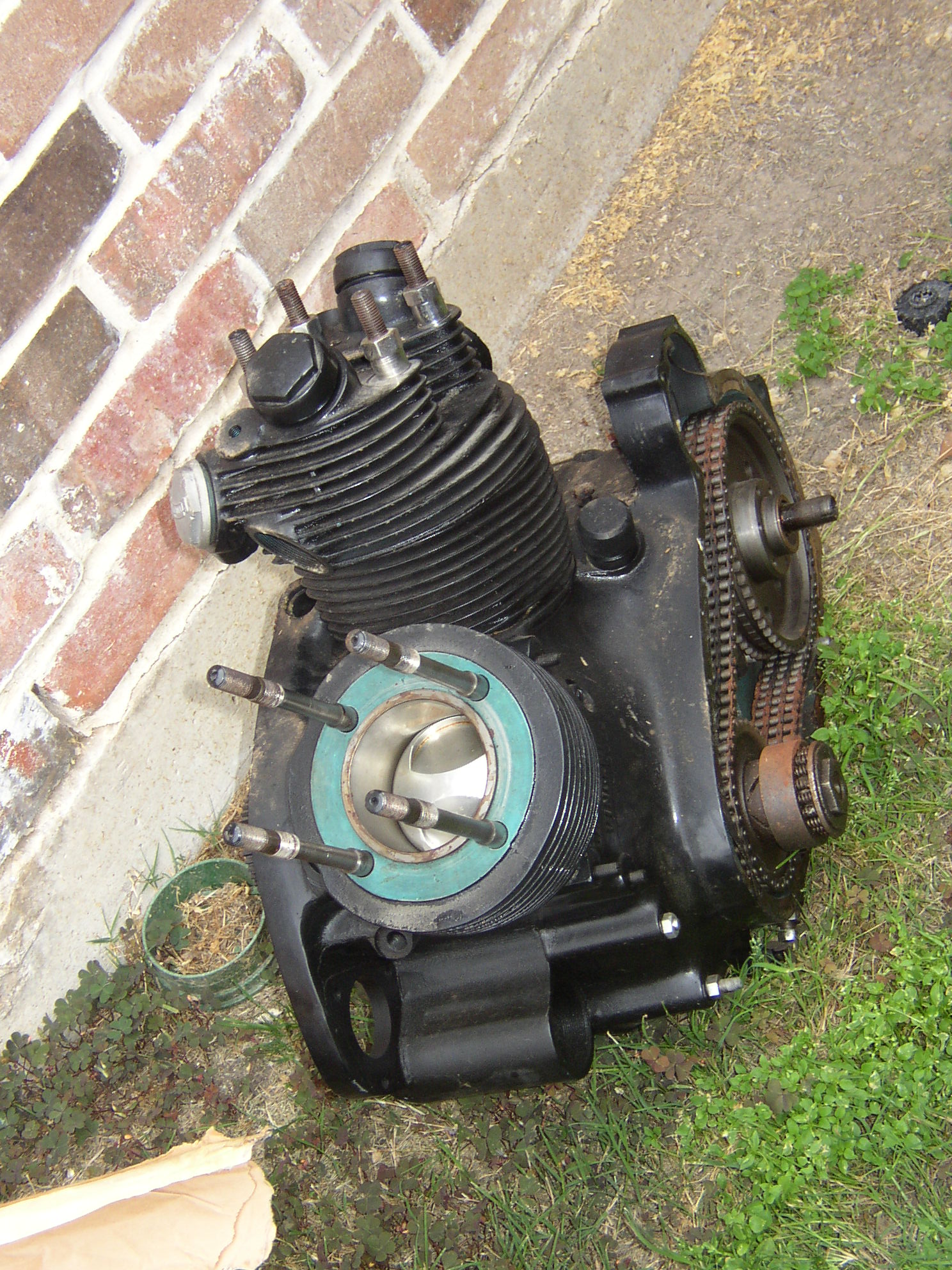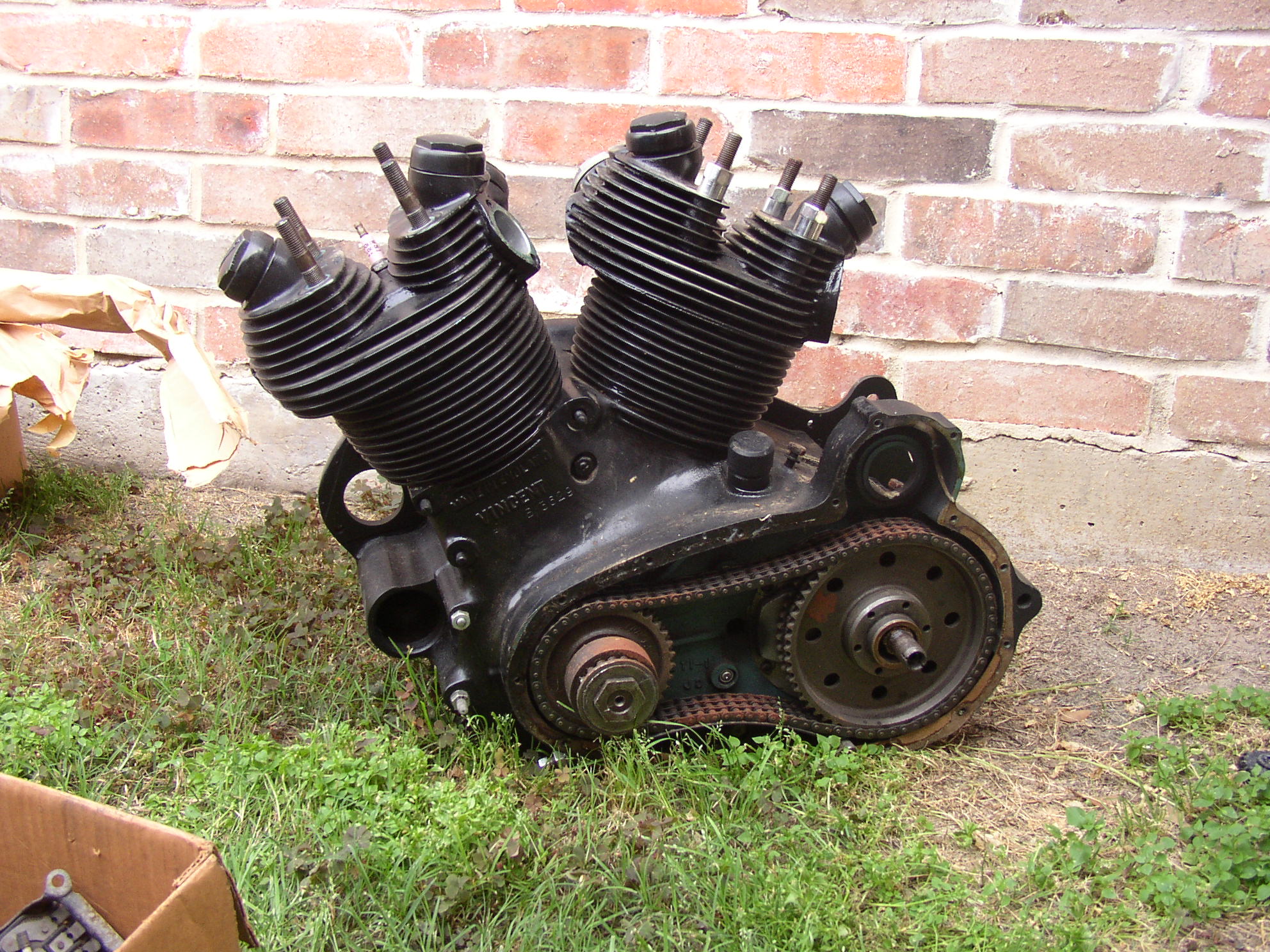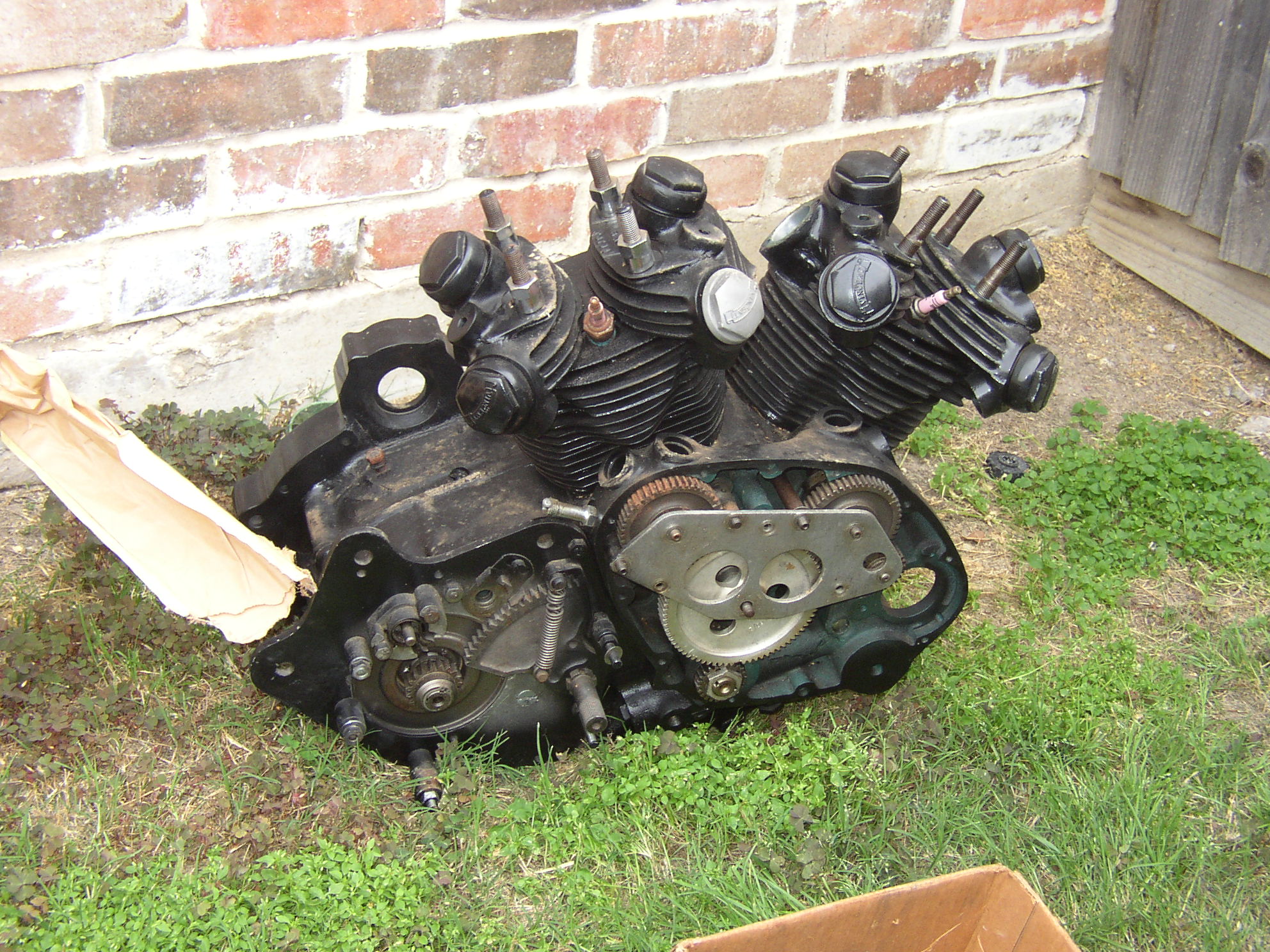 Surprising it is to find that maybe cat spray somehow preserves chrome, as it was of brilliant quality and looks once cleaned up, but nevertheless I had it removed in reverse process. I did the removal of paint and anodizing color. Over time I acquired either new or good used parts to replace/supply what I needed. My goal was to build a concours-quality restoration.
But, some things changed my mind about that plan: first, I began to note the engine particulars and secondly, I became friends with Tony Blackstock, and thirdly, Big Sid Biberman noticed in a picture that the rods were Vibracs. The engine featured brand new 12.5:1 Specialloid pistons and MK2 cams. Ports were enormous and there were signs the bike had been abused/repaired. Some of the repairs good, others not. More encouragement from Sid, and the game was on for a racer or maybe street racer build. This desire became a passion when Tony Blackstock started putting 2 and 2 together and brought his old pal Bob Welborn's bike into the story. Then, at a bike show the Brit bike shop owner who knew the bike's history told me the bike I had bought was THE ONE (that Jack Wilson built)!
Bev tunes Felix - photo courtesy Dave Hartner
Through the VOC (help from Gordon Powell) I learned that I had the RFM of another Texan's engine mate and he had mine. I also had the matching UFM for another bike belonging to a member in another state. Through careful communication I made contact through The Club so that they could respond to me if they were agreeable, and eventually I was able to swap with the Texan, and the fellow out of state declined because he wanted to make a special, such as an Egli or Norvin with his engine. This (the RFM) was great, but I still desired the matching UFM.
I scored that part from a stash discovered by Keith Martin at Big D Cycle, and my UFM matched the rear frame in his stash (maybe eventually the man out of state will see the value of owning the matches for his engine). So, thanks to The Club's record-keeping, not one but 2 and a possible 3 Vincents were "made whole" again!
If that wasn't enough, a bonus was that in Keith's stash I found THE tank that unmistakably was the one from the Wilson build!
The story doesn't stop there! At an annual reunion of the Iron Horse Motorcycle Club of Ft. Worth, which they refer to as the "Dalio/Wilson" reunion, Curtis Terry approached me about buying some Dellorto carburetors (with floats and a tuning kit). Greg Miller, a sports car/moto mechanic of yore owned them and had bought them from Tony Blackstock in the early '60s! They were unused! A deal was struck.
I also sourced Black Lightning spec "yellow numeral" speedo and tacho and bought some repop BL-type bits from Allan Johncock.
Along the way there was plenty of out-sourcing, to painters Jason Small (who did most of the bike parts) and Curtis Christensen (tank and UFM/transfers and other parts), machining and honing to Andy Cluts, special inspection and metal work to Bill Jenkins, 2" pipes by Colin Taylor and several key parts repaired/manufactured by Clever Trevor Southwell. Also, I got lots of help and encouragement along the way from Jim Gattis, John Hanson, Bill Hoddinott, David Dunfey, Big Sid Biberman and of course my close pal here in town/Lone Star Technical Officer, Dave Hartner. Any others who helped me know who they are and know I appreciate them but the ones mentioned were frequently engaged.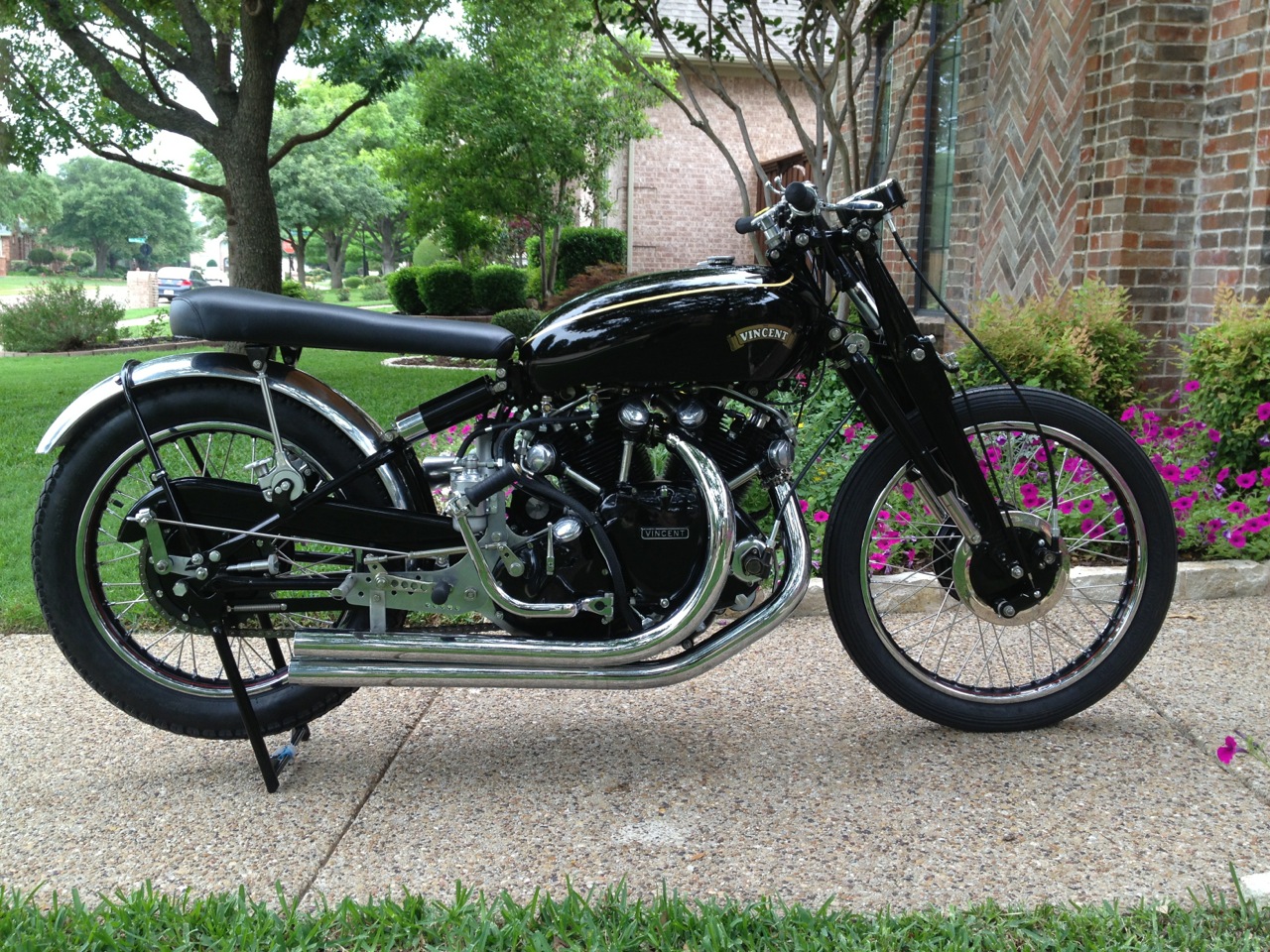 Felix completed!
Essentially, all the disassembly, most of the inspection, all the sourcing and assembly were done by me! : It took me six years and along the way I restored 2 other bikes, and refurbished 3.
Not long ago I finally got to meet Bob Welborn face to face and we have become good friends and he's as excited about this bike as I am.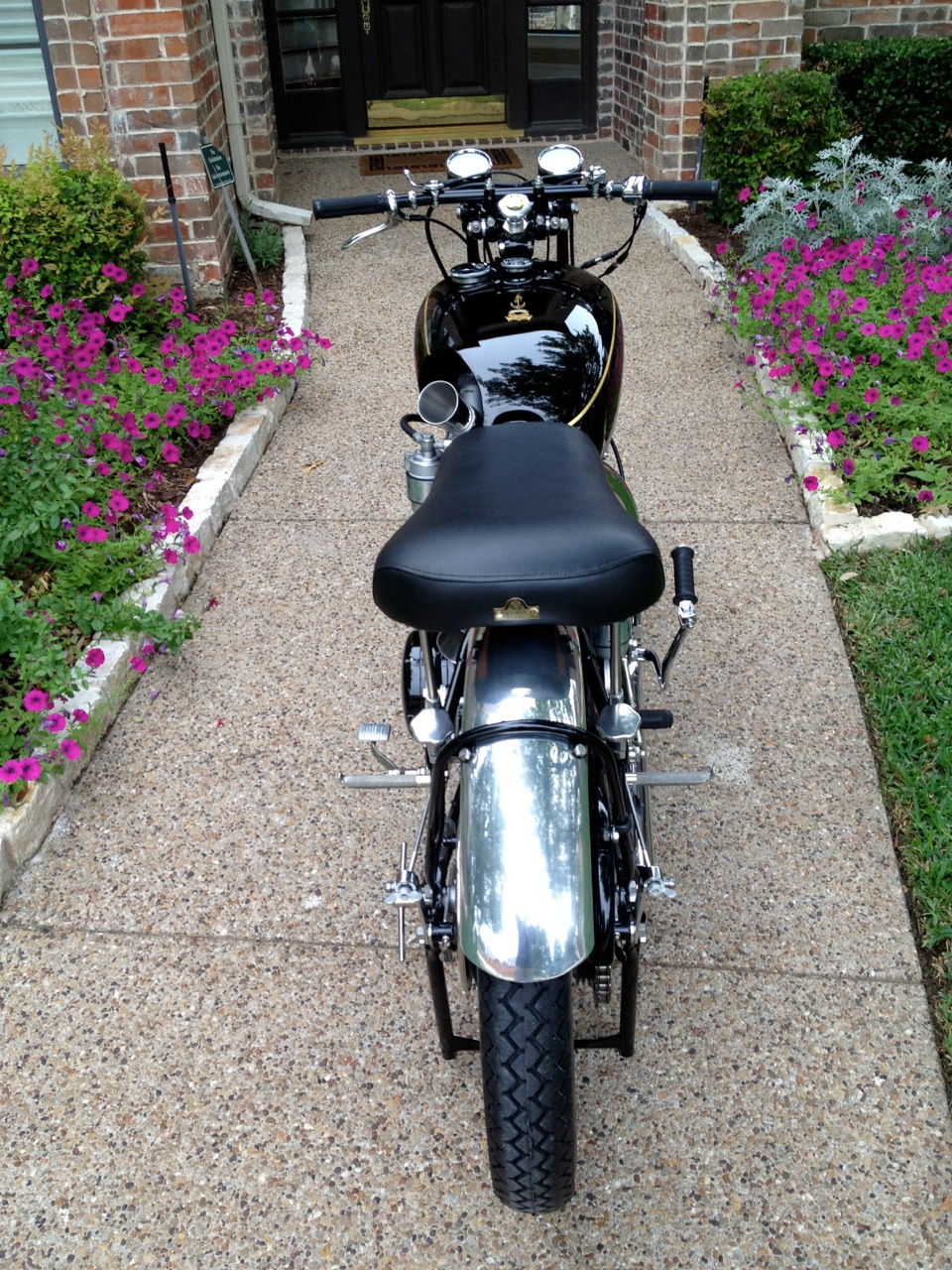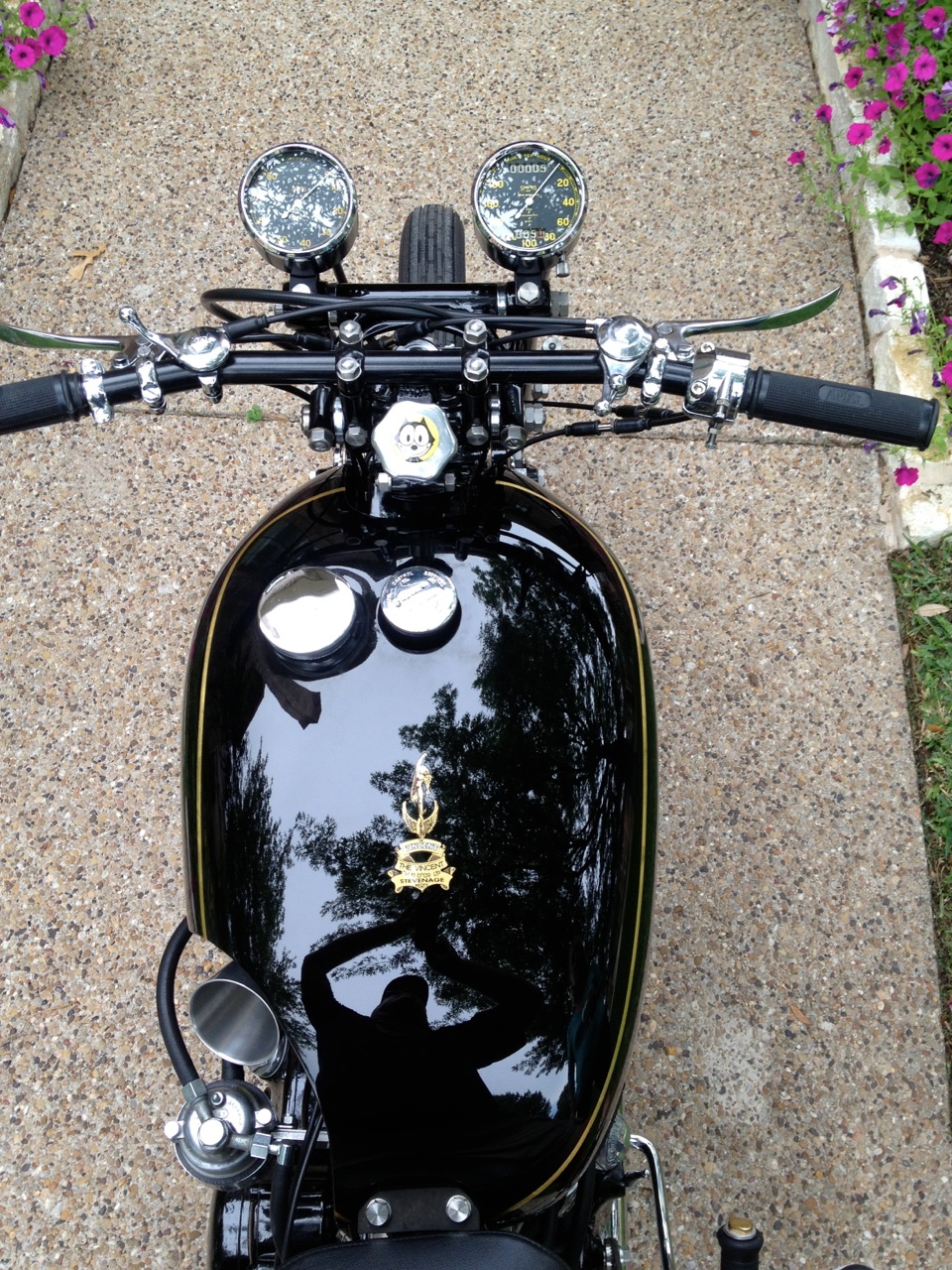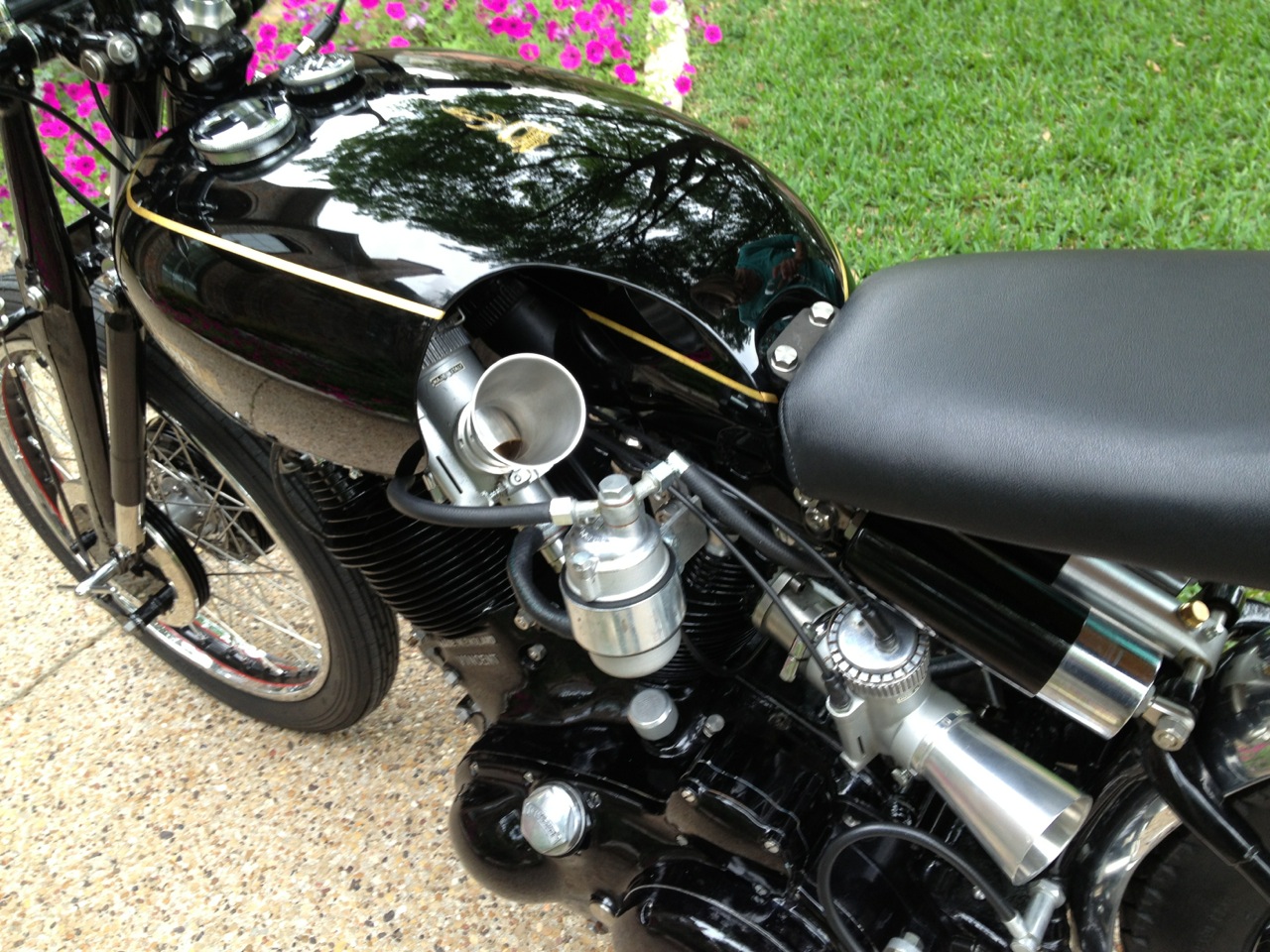 Presently I am sorting the machine. With the open pipes the machine is over the top loud and you gotta love Texas, because as I rode around the block that first time, windows rattling at every house, a lady neighbor in her yard cheered as I went by (well, I think that is what she was doing). I did not go with the mentioned Specialloids (this is a gas burner, as was Jack's build), but there are plenty of performance parts and the power feels very strong. The huge carbs idle perfectly.
No, this is not a restoration of what Jack built; rather, it is a sort of "reincarnation." But, it is keeping with the spirit of that bike. I am no Jack Wilson, but I like to think he would approve of this bike.
I'm expecting some good rides on Felix and if anything remarkable surfaces, there may be a part 4 to all of this. They say cats have 9 lives...