Oskar Zernickow
By Bev Bowen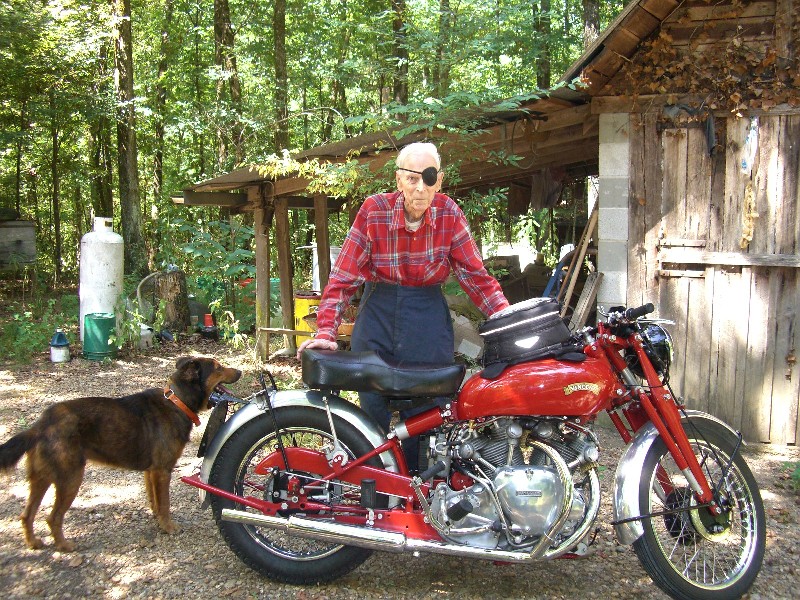 As most of us know, not all Vincents - or their owners - find themselves in surroundings like Half Moon Bay or Pebble Beach or in Jay Leno's Garage. With my Red Rapide stands the late Oskar Zernickow, its former owner of 50 years. With Oskar is his hound, Bruno, and behind him is the building he lived in for many years.
Oskar grew up in Upstate, New York, the son of a German immigrant. Oskar moved South for his college work at Tulane University. Along the way he served in Merchant Marine, and then enlisted in the U.S. Army. He was stationed in the Canal Zone pre war, then went to OCS and became an officer during WWII. He was a veteran of the Pacific Theatre, fighting in the Philippines and New Guinea.
After the war he went to work with DuPont and was sent to their then new factory in Victoria, Texas. A gearhead back then, he bought his first Vincents there. His first one now belongs to Glenn Challis in Queensland, Australia and as mentioned the Red Rapide is mine. He later bought two Comets, an "A" that now belongs to Somer Hooker and a '52 "C" which I restored and was featured on a recent MPH cover (# 723). He owned many other motorcycles and cars and loved engines of any kind, including steam.
Oskar returned to college and earned his Ph.D. from Tulane then worked until retirement as a Spanish and German professor at Mississippi State University. He loved nature and animals and at one time he had an in-house possum, named Pogo, naturally, which he had rescued and nursed after an apparent encounter with a road vehicle. Oskar loved firearms and was a regular target shooter. I asked him one time if he hunted. He replied "I haven't hunted since New Guinea." I did not ask for clarification.
His "home" had no air conditioning, not even an electric fan. He slept in a loft above his one car garage dwelling. Until he was 80 years old or thereabouts, he would step on a box and grab the square opening into the loft and hoist himself to bed. Later, someone persuaded him to nail up ladder rungs, which he did. He had no electricity for years, preferring to use battery power. The patch on his eye was the result of losing sight in that one when a frozen battery he was charging exploded, and so later he made friends with the electric company. He had a one burner gas stove and a gas floor heater, no indoor running water. Amazingly, he was able to live on his own until death, passing away July 22, 2009.
Oskar had many motorcycling friends and acquaintances. He took in Vincents back when dealerships were essentially non-existent in the USA and rode them back when the legend was being formed. He was part of it, really. And, because of who he was, how he lived and how he impacted those around him, he sort of went beyond that. He IS a legend, all on his own.
Bev Bowen
A friend of Oskarís