Toogood: A Story
By Bev Bowen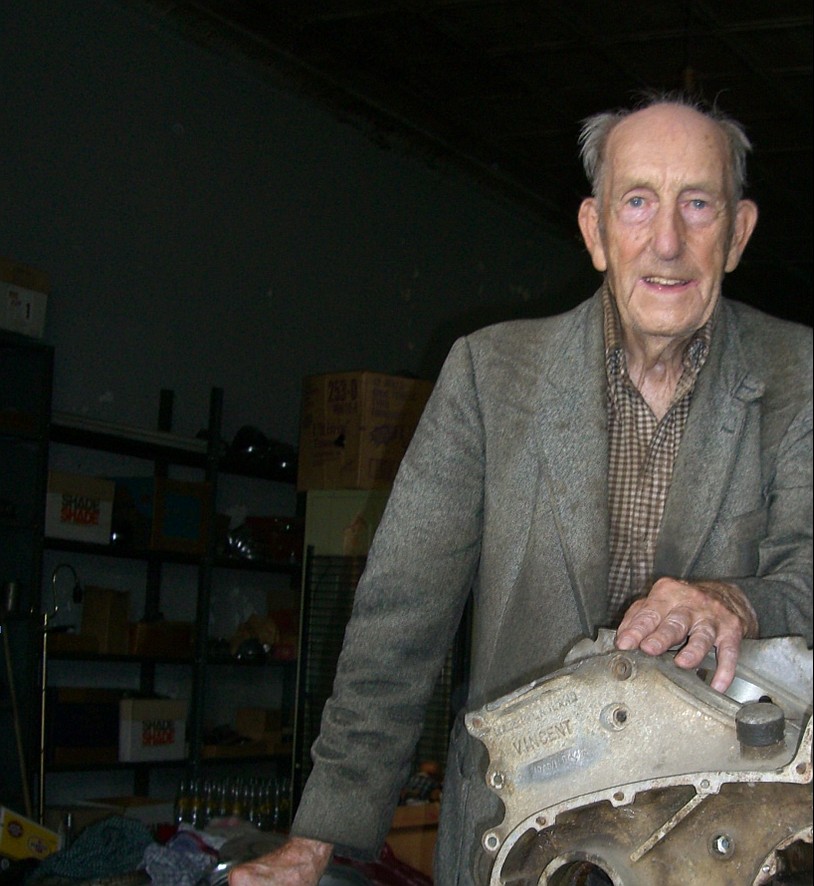 Vic Toogood, 2007
The gentleman above is Victor Toogood, 94 years of age, a legend among British bike enthusiasts in the Dallas-Ft. Worth vicinity, and beyond. Both he and the Vincent Twin case he displays in the photograph are key subjects for "Vincent History" in the Lone Star State. Two legends, then: "The Vic Toogood Legend" and "The Legend of the Trinity River Vincent."
I had heard of Vic early on in my Vincent experience, but had no occasion to meet him. And, like most other North Texas Brit Bike nuts, I had vaguely heard tell of a "Trinity River" Vincent, and that Vic was involved, somehow. Then, with the purchase of a Shadow basket case recently, I learned that Vic was familiar with the history of this particular machine, so I figured it would be great to shake hands with him and see what I could learn.
Fortunately, getting an audience with the man proved relatively easy, thanks to Bill Jenkins, who had known him for years. So, on a Sunday afternoon, we rode our machines to Vic's shop in Oak Cliff. When we pulled up, he was sitting in the doorway and took immediate notice of our approach. I think the first thing he said was "those Red Rapides are quite rare." With that, we were off and running with a great visit!
I have since been back several times. Vic's story deserves volumes, but to save space here, you are referred to a very fine article about Mr. Toogood on the North Texas Norton Owners' Club web site. There, you may get an idea of this fine man's accomplishments and influence within the motorcycle community, even today. Key things to note before you go there are that Vic is a WWII veteran pilot, having served the RAF. Raised and educated in the London area, he came to the U.S. in 1947, and has remained, although he has always kept in touch with his roots and visits almost annually. Most of his 94 years have been spent as a motorcycling enthusiast. He has owned several Vincents, one of which a Black Shadow upon which he logged some 124 thousand miles! That was a long time ago, yet his memories are vivid. He never joined the VOC, but the club's presence was not huge in Dallas in those years, plus Vic "played the field" with his motorcycles, although most of it involved machines of British manufacture. I really enjoy talking with Vic - he is a special person and is a treasure of knowledge and experience. You are encouraged to visit the site mentioned, as you will be entertained!
"The Legend of the Trinity River Vincent" follows, as told to me by Vic:
In 1952, Jimmy Parker was the Indian dealer in Dallas. At that time, with a deal worked with Vincent, each Indian dealer could take delivery of one Vincent. That year, the Rapide # F10AB/1/6445, a touring model, was taken in delivery (from New Orleans, shipped in '51, according to Gordon Powell) and assembled by Jimmy's brother Jack, who was "greatly impressed" upon riding the machine, and wisely kept it for himself. In those days, the Dallas Motorcycle Club, formed in 1908, had members with various brands, including Harley-Davidson, Excelsior, Flying Merkel, etc., but really no British machines. So, Jack Parker's Vincent got plenty of attention and was referred to as the "skinny wheeled HD/"HRD." The club had meetings on Friday nights at the Blue Front Café on Main Street, with all motorcycles parked in line out front. One night, when the meeting adjourned and the club members exited the café, the Vincent was gone! None of the other machines were purloined.
There were no clues. After about 3 months, the insurance company paid off. Then, about 3 years later, on a bright, cloudless, and very hot September day, while dredging operations were underway on the main channel of the Trinity River in Dallas, a twin bucket dredge (how appropriate) delivered a twin cylinder Vincent out of the mire! It was indeed the stolen Vincent! By protocol, it was taken to the police impoundment.
Not long thereafter is when Vic got involved. Vic Toogood's shop on Marsalis was a busy place in those days, a large tin building where he charged motorcyclists $5.00/month to store their machines and work on them. While he had a "day job" as an accountant, Vic also called upon his skills learned back in England, where he had worked for Euscon Ignition Company, a firm that restored and repaired magnetos and dynamos. He had only recently repaired a mag/dyno for a local police officer, a "Detective Love." Vic recalled the repair bill came to $28.00. Detective Love asked Vic if he would like to receive a motorcycle - a VINCENT - in place of the repair bill payment. It was the dredged Rapide. Vic's response? "I took him up on it!" Vic added that the officer delivered it at no charge!
Inspecting the machine, Vic found the gearbox items had survived the 3 year submersion in good shape, as had many other parts. He said the tires looked fine, seeming to have kept very well in the muck, but one of the Girdraulic legs was damaged by the dredge. Vic anticipated restoring the machine, but it never happened.
Following its submersion and the subsequent decades of shelf life - and enduring several moves - the cases/frames (matching) are pretty rough, and while bits may be mostly there in one box or the other, it's not readily clear how much of the original machine is in Vic's possession. I know that at least one bit was sold off, that being FF3AS, the bottom link assembly, which the previous owner to my Shadow had purchased.
Therefore, not only do I now have the pleasure of calling Vic the Legend a friend, part of the "Trinity River Vincent" is in my garage!
Will the Trinity River Vincent ever see the road again? Well, I see that Vic is beginning to sort the parts... May there be more to the telling of the legend(s)?