Houston's Flying Dutchman
By Bev Bowen
From all we presently know about early Texas Vincent history, most of the go-fast activities here in the Lone Star State involved street racing, or at best, the very early organized timed drag races such as the ones at Caddo Mills NW of Dallas in the midlate '50s. Beyond that, Tony Blackstock did put his Black Lightning on the starting line at "The Daytona of the West" at Dodge City. There was also design by a phantom-like customer with a Black Shadow who commissioned guru tuner Jack Wilson at Dalio's Triumph in Ft. Worth to build a Bonneville Salt Flats racer, but while Jack completed his assignment, the bike never made the trip.
Pete Molenaar was our Vincent Man at Bonneville! His full name was Peter Schoon Molenaar, Jr. The Molenaar surname is of Dutch origin, from their word meaning "miller". Pete was born in Birmingham, Alabama, but his family relocated to Houston when he was pre-teen when his executive father made a career move.
Pete with His Racer - signed for Harry Bellville (photo courtesy Somer Hooker)
As for Pete, he finished high school and then served in The U.S. military during the Korean War. Following discharge, He got busy with motorcycles! We are not entirely sure which shop(s) employed him, but a likely one would have been Bruce Bristol's BSA Shop, which was quite busy and sold many brands, including those of British manufacture. Pete was a mechanic, and apparently a very good one, implied by his results and supported by legend.
John Clark - aka "The Vincent Kid" is the only known Vincent authority now presently with us who knew Pete, having met him on one occasion. When John was on a roll in Austin beating everyone in sight with his own well-tuned Rapide, he also had occasion to best Pete in a run. John acknowledged that Pete's bike had all the "Black Lightning" upgrades, but confidently relied on his roll-on techniques and tuning for the street, whereas Molenaar's bike was set up as a top speed machine. Beyond that encounter, we have very little information about Pete or his machine from a living Vincent Man.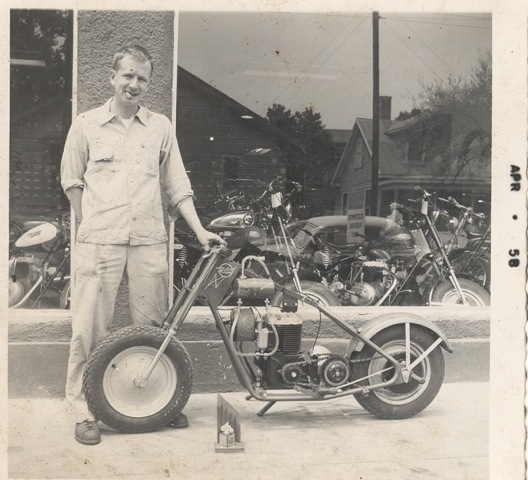 Pete with his Hotrod Mustang (photo courtesy Somer Hooker)
As mentioned, there's legend concerning Pete and his Vincent, but probably the main source of "facts" about him and his racing come from Vincent-HRD Owners Club Honorary Member Somer Hooker. Somer had purchased Harry Bellville's entire inventory and along with it he acquired a file on Pete, which included pictures and notes. Being the main USA-based parts source for Vincent back then, Bellville's supply would have certainly been where Pete bought at least some of his parts. Then, as he developed his bike and grew in awareness, he no doubt sought out special racing parts, which Harry had on hand. Included with that were the complete racing motorcycles of the Burns-Wright racing duo. Their Black Lightning had set a land speed record of 185.15 MPH in New Zealand in 1955. Then, in 1956 they shipped their kit to Bonneville for a record attempt on The Salt. They were unsuccessful, though, and out of resources (money) they sold everything to Harry Bellville.
Pete with His Black Shadow - signed for his family (photo courtesy Molenaar family)
That same year, 1956, Pete Molenaar was also running his Vincent at Bonneville. Only 23 at the time, he had built up a fast bike, and while he did not set a record, he and his bike posted 142.4 MPH, very impressive for what likely was his first attempt. We don't know how many times Pete competed at Bonneville, only that 1956 was the year he had documentation that we have seen. While there, Pete would have likely shaken hands with the Burns and Wright men and maybe Harry was there, too? Anyway, he learned that Harry bought the B-W go-fast stuff and took possession of some of it for his machine!
Timing side of the Molenaar Black Shadow (photo courtesy Somer Hooker)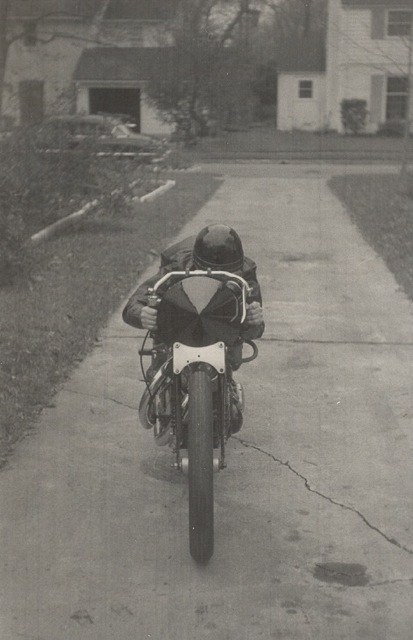 Pete Tucked In (photo courtesy Somer Hooker)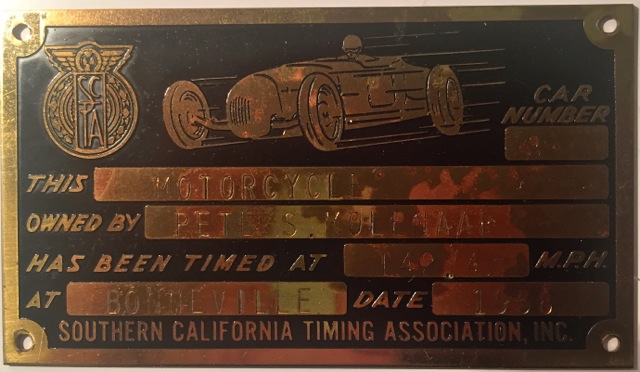 Pete's Engraved SCTA Timing Plate from SCTA "Car (Motorcycle) Number 3" 142.40 MPH at Bonneville (photo courtesy Molenaar family)
We don't know if Pete acquired his Black Shadow from his Houston employer or some other source. From pictures, we see that he had made many modifications to suit land speed record attempts, but as far as internal modifications, we can only guess what was in there. Pete called his machine a Black Lightning, but it is not likely that would have been the case, as only 30 or so of that model were documented as factory production, identified by serial number. No worries, as we find that there are many Black Lightning "replicas" and machines otherwise modified with Lightning specifications so that they might approach or even surpass the mighty Black Lightning in power. So, to their owners, they are "Black Lightnings". Whatever, Molenaar's bike was a special with a proven record, and he obviously knew what he was doing!
Bellville's notes and conversation with Somer Hooker indicated that Bellville loaned Pete the B-W fairing, and possibly other parts , also. Such dealings common among enthusiasts/suppliers over the years, but unfortunately there was apparently no supportive written documentation to that effect. Sadly, Pete's project came to a halt with illness, and he died from metastatic cancer at M.D. Anderson Hospital in February 1960, at age 26. After Molenaar's death Harry attempted to retrieve his parts, but the executor/attorney (?) handling Pete's estate had no documentation of ownership, and we all know the old possession cliché. And, it is understood that executors are charged by the family to take great care in consideration of the family. These days, with Vincent machines having become valuable, it is unthinkable that anyone would make a loan without something in writing, but back then, as mentioned, it was common; and, uncommonly unfortunate for Harry.
All of Pete's motorcycling belongings were sold off - one report is that a local buyer bought everything and then "let things sit" for a very long time. It's not clear how many owners followed, but it is thought the bike's engine was separated from its frames, so there could be multiple owners. The current owner(s?) is presently not known, at least to most of us. The original B-W fairing famously disappeared, but at least one replica was produced and one was made available to the current owner of the B-W Black Lightning.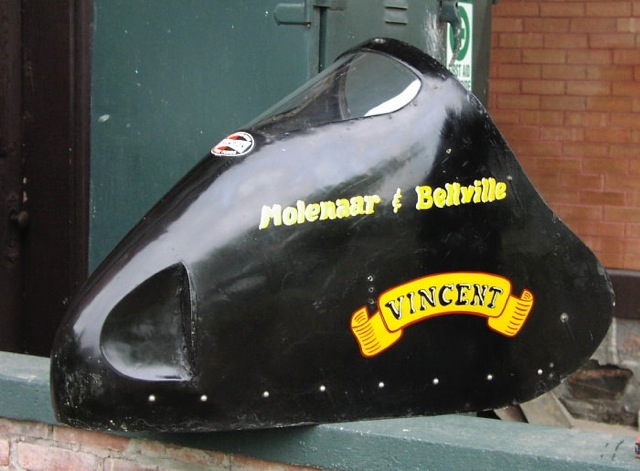 A likeness (or the real deal?) of the B-W fairing - seen one of these? Give us a call! (photo courtesy Somer Hooker)
With Pete Molenaar and his Vincent racer, there was an impressive beginning, but the end came all too quickly. What might have been and what could be! It would be great to see the Molenaar racer back together and on display somewhere/sometime! It ran an impressive time before being equipped with any B-W parts, and Pete had shown in just a brief time that he was indeed "The Flying (VINCENT) Dutchman"!
Acknowledgements
Thanks to Somer Hooker for sharing information and photos from his archives. Thanks to a member of the extended Molenaar family, who kindly shared the engraved Southern California Timing Association trophy label that is the only thing left in their possession of Pete's motorcycling experience, other than a few, mostly young childhood, photographs.
Request
Should the current owner(s) of the Molenaar Vincent read this, please contact us should you consider sharing photos or possibly making the machine visible to the Club. We would love to expand Pete Molenaar's story, especially with information about any other racing adventures he had, photos, etc. Please contact us with any "scoop."